9th Annual Season Announcement Cabaret
Brought to you by American Woodmark
April 8th, 2023
The Virginia
Theme: "Identity Crisis", Auditions March 2nd & 4th
Sommer Schoch, the Producing Artistic Director, will announce Flashback Theater's next season of shows during an evening of performances by local talent. The Cabaret is a celebration of all that FbTC has accomplished in the past years, it is also a chance to build excitement for what lies ahead. Between performances of local theater artists, the 2023-24 season at Flashback Theater will be announced. Audiences will get a glimpse at next season's Mainstage productions, Fringe shows, and new projects. At the same time, the cabaret is an opportunity for local talent to stretch their performance abilities each year. Performers are encouraged to choose material that they are personally excited by and may not get to perform otherwise, which results in a unique evening of artistic expression.
Tickets for the Season Announcement Cabaret will go on sale March 8, 2023. Reservation required, $10 suggested donation.
Dates and Times
Saturday, April 8, 2023 at 7:00 p.m.

TITLE SPONSOR

ARTIST SPONSOR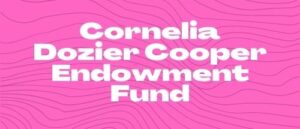 DESIGN SPONSOR