Founded in November 2014, Flashback Theater Co. (FbTC) is quickly becoming known for its high quality programming and commitment to developing the region's performing arts talent.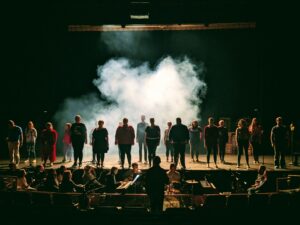 Flashback Theater has a season of 3-4 fully staged productions each year. Each season, FbTC explores the world, our past, and theater, giving you the chance to see both classic and new theater productions to enhance your perception of our world. See our current season. See our production history.
FbTC is a semi-professional theater company, meaning actors and crew are compensated with stipends for their work on and dedication to a production. By compensating our theater artists, we are encouraging local talent to remain in the area long term, allowing us to grow our community's cultural landscape.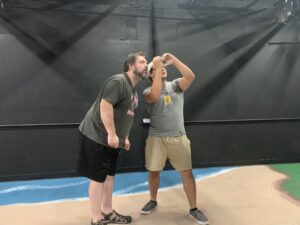 Let's Play! is our theater education series and is intended to further the skills and techniques of our local performing artists while introducing the community to basic theater concepts. It is perfect for children and adults alike; people of all ages can learn to enjoy theater together! Learn more.
Flashback Theater is a non-profit corporation and is governed by a Board of Directors which meets on a monthly basis. The company is housed in the former City Hall building at 400 E. Mt. Vernon St. in downtown Somerset, Kentucky. The former city council chambers have been renovated into a blackbox performance space, which allows for a variety of creative staging opportunities.