Let's Play!
Let's Play! is Flashback's educational arm that produces programming intended to further the skills and techniques of our local theater artists while introducing the community to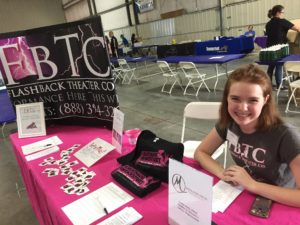 basic performing concepts through theater education and hands-on activity. Our Let's Play! Company keeps Let's Play! running smoothly all year long. Let's Play! programming includes Second Saturday Workshops, Masterclasses, Community Outreach, and New Play Development.
Learn more about Let's Play! programs
Second Saturday Workshops
Masterclasses
Community Outreach
New Play Development

Upcoming Events
with Amber Frangos and Steve Cleberg
March 7, 9, & 10, 2023 | 6:00 pm – 8:00 pm
400 E. Mount Vernon St.
Cost: $20
Available Seats:  25
Auditions for staged plays typically require a memorized monologue, and are usually followed with a callback session to read scenes with other auditioning actors. Participants of the masterclass will gain experience in interpreting and performing from Shakespearean text, giving them a foundation for the audition experience.