New Play Development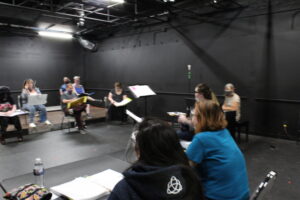 Flashback Theater is passionate about developing new work that showcases the voices of our region. Through development workshops, Flashback has produced the world premiere productions of Mary: Her Story by Amber Frangos, Rosies: The Women Who Riveted the Nation by Amber Frangos and Boats Against The Current by William H. McCann.
Resident Playwright
Flashback Theater hosts a resident playwright, Amber Frangos, who uses the time and resources of Flashback to create plays that we want to produce and you want to see!
You can contact Amber with questions about playwriting, production, or any of her plays at [email protected]
You can also visit Amber at her website.
Submissions
Are you a playwright? Flashback Theater is always seeking submissions for development and production. You can learn more about script submission at this link.
Or you can click here to Submit a Play now.
New Play Development History
The American Parade by Steve Cleberg
Workshop Dates: May 30 – June 3, 2022
World Premiere at Flashback: July 21 – July 31, 2022
Mary: Her Story book and lyrics by Amber Frangos, Music by Maria McNeil
Workshopped over three years, 2018-2021
Workshop Dates: July 22-25, 2019 for book
August 5-9, 2019 for music
December 14, 2019 for the "Tell Him" scene – book & music.
October 5-8, 2020 for book & music, Public Reading held at 7 p.m. on Oct. 9, 2020
World Premiere at Flashback: May 2022
Making It Home by Jim Colgan
Workshop Dates: August 25-28, 2020
Get in The Game (formerly Leo: One Man's Journey Through Breast Cancer) by Amber Frangos
Workshop Dates: 2018
Boats Against the Current by William H. McCann
Workshop Dates: July 16-20, 2018
World Premiere at Flashback: February – March 2019
Rosies: The Women Who Riveted The Nation by Amber Frangos
Workshop Dates: July 24-28, 2017
World Premiere at Flashback: May 2018
Dancing in the Dark by Stephanie Porter
Workshop Dates: July 18-22, 2016