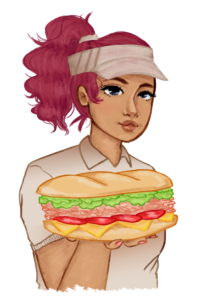 Flashback Theater Co. (FbTC) opens the 2019-20 season of productions with a one act play set in a sandwich shop, entitled American Hero by Bess Wohl. Additionally, FbTC will feature three short plays authored by local playwrights for a full serving of theater. 
Wohl's one act play, American Hero, tells the story of three diverse sandwich shop workers, each struggling in their own way. Audiences will find themselves seated in the sandwich shop for an immersive experience of theater. Sit at a table for an up close experience or take a seat in the row seating if you prefer the traditional theater feel.
Bailey Patterson plays the role of Sherri, a teenager who just acquired her first job as a "sandwich artist." However, after the mysterious disappearance of her boss (played by Thomas Alvey) Sherri and the rest of the team must work together to keep the shop doors open. 
Sheri's coworker Jamie (played by Krissy Brant) is a young woman who has fallen on hard times and can't seem to keep her sarcastic comments to herself, or her flirty glances from Ted (played by Keifer Adkins). Ted, a past Bank of America employee, is completely unqualified for a job in sandwich making, but as a recently unemployed father of two must make ends meet. Local actors Brian Covert and Tiffany Warren also contribute to this mouth-watering production on the FbTC stage. 
Directed by Sommer Schoch, American Hero is the perfect balance of relatable humor and eye-opening viewpoints of America's workforce. "Franchises are a huge part of our business landscape here in Somerset," says Schoch. "This play is relatable to anyone who has ever worked in one, allowing us to examine how a corporate franchise system affects each of us personally as well as the community as a whole."
The short plays featured at prior to the performance of Hero will be A.S. Todd's, To Leave a Land, which follows a couple as they struggle to leave their family's farmland, Chris Harris's Waiting for Bardot which features a young couple facing the future of their relationship and the conflict between ignorance and intelligence, and David Daring's What a Day which illustrates a fantastical society in a post-modern world. These plays will be directed by Amber Frangos and Keifer Adkins. 
"This unique combination of plays celebrates the local voice of theater artists," says Sommer Schoch, Producing Artistic Director. "We are hearing from local playwrights and seeing local performers in stories that we can all relate to." 
The first of FbTC's short plays will be A.S. Todd's To Leave a Land, directed by Amber Frangos. This short play presents a conflicted couple as they struggle to leave behind the family farm in search for success in the city. Martha Pratt takes the stage as Beth, a strong minded wife and mother both cursed and blessed with an old soul. Beth and her husband Mark (played by Brian Simmons) reminisce on generations of memories made on the piece of farmland they call home, now forced to sell due to a decline in the agriculture business. Beth and Mark worry about the futures of their children, Michele and Cindy (played by Emily Stevens and Bella Allison) as they will be growing up in a new environment. Tensions rise further after the prospecting buyer, Mr. Dampier (played by Thomas Alvey) announces his new plans for the property which upsets everyone but the realtor, Mr. Cockerel (played by Brian Covert). Watch as the fate of the family farm unfolds in Todd's To Leave a Land.  
David Daring's What a Day (also directed by Amber Frangos) offers a fascinating look at an alternate society where humans are not complete without a windup key. Alice and Bob (played by Martha Pratt and Brian Covert, respectively) conduct their day as usual, keeping their key turned for energy and working to please the "Tinkerman" (played by Brian Simmons). That is, until Frederica (Tiffany Warren) arrives without a key – or belief in the mysterious Tinkerman. What a Day will leave you pondering relationships, faith, and society.
Closing the short plays is Chris Harris's Waiting for Bardot, a comedy following a young couple who discuss the conflicts in their relationship and why they exist in the first place. Directed by Keifer Adkins, Albert (played by Brian Simmons) is an arrogant know-it-all and a little too obsessed with Brigitte Bardot. Accompanying him is his girlfriend, Ester (played by Tiffany Warren) who is beginning to acknowledge Albert's pesting drive to broadcast his intelligence to the world. Follow this diverse couple as they discuss the ups and downs of their relationship in Harris's Waiting for Bardot. 
Flashback Theater is grateful to season sponsors, Applied Behavioral Advancements, LLC and M&W Printing for their ongoing support. Additionally, the Kentucky Arts Council, the state arts agency, provides operating support to Flashback Theater Co. with state tax dollars and federal funding from the National Endowment for the Arts. Additional support comes from Kentucky Tourism.
Location:
Flashback Theater Black Box
400 E Mount Vernon St.
Somerset, Kentucky

Tickets:
Adults – $18 Advance, $20 Door*
Students – $12 Advance, $15 Door*
Single tickets for this show will go on sale to the public on August 27, 2019. Season ticket holders are able to reserve their seats immediately. Season tickets are $50 and will include all three season productions. *Each single ticket incurs a $1 ticket processing fee.
Box Office Hours:
Tuesday through Friday, 11:00 a.m. – 4:00 p.m.
Call (888) 394-FBTC ext. 1 for tickets.
Dates: 
Thursday, September 12 at 7:30 p.m.
Friday, September 13 at 7:30 p.m.
Sunday, September 15 at 2:30 p.m.
Thursday, September 19 at 7:30 p.m.
Friday, September 20 at 7:30 p.m.
Saturday, September 21 at 7:30 p.m.
Sunday, September 22 at 2:30 p.m