Flashback Theater Co. seeks talent for the upcoming Mary: Her Story musical workshop, which will be under the direction Amber Frangos and the musical direction of Maria McNeil. Mary, written by Frangos and McNeil, brings to life the story of Mary, the mother of Jesus Christ, lending humanity to her tale and illustrating the joys and struggles of raising the Son of God. The purpose of the workshop will be to further develop the production of the new musical.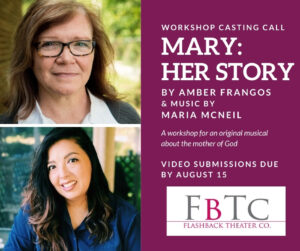 WORKSHOP DETAILS
The workshop will take place the week of October 5-9, 2020 at the Flashback Theater, located at 400 East Mt. Vernon St., Somerset, Kentucky. Flashback Theater Co. will produce the workshop for the musical written/developed by Amber Frangos and Maria McNeil. Monday through Thursday of the workshop will be devoted to the development of music and scene work. On Friday, the culmination of the music and scene work will be showcased through a semi-staged performance. Audience attendance to the semi-staged performance is by invitation only.
CHARACTER BIOS
The workshop will offer the following roles and vocal requirements:
Mary-younger vocal range: Mezzo Soprano
Mary-older vocal range: Mezzo Soprano
Magdalene vocal range: Mezzo Soprano
Mary's Mother vocal range: Soprano
Joseph-Mary's husband vocal range: Tenor
Jesus -Adult vocal range: Baritone/Tenor
Mary's father vocal range: Bass
Jesus-age range 12-14 vocal range: A below Middle C to C5
Elizabeth-Mary's cousin Ensemble
Zechariah- Ensemble
Rufus- Ensemble
Dinah -Ensemble
1- Messenger – Ensemble
SUBMISSION REQUIREMENTS
All auditions for the workshop will be held online, with callbacks taking place over Zoom.
In order to audition for the workshop, please submit a headshot, resume, 2-3 minute vocal video that showcases your range, and a taped dramatic monologue to amber@flashbacktheater.co by midnight on August 14, 2020.
For the vocal video: Please submit 2 Songs: 1 Contemporary MT selection (Stick to shows written in the 1990s and later) and 1 Pop Song. Both should be a 32-bar cut and should run around 1:15–1:30 (two minutes is maximum).
For the dramatic monologue: Prepare a 1:00-2:00 minute monologue that showcases your dramatic range of expression. We are looking for presentation and range.
In addition to the aforementioned requirements, please complete the following Google form in order to supply workshop directors with your basic personal information:
https://docs.google.com/forms/d/16GlaKCOJ5nb4KAhF3yWVJQGlBbXSe8W-ZQ5GconLw28/edit
SELECTIONS AND NOTIFICATIONS
Submission reviews will take place during the week of August 18, 2020. We will review each submission under the same circumstances. Each video will be considered for inclusion in our workshop in October 2020. When we have narrowed the cast, each performer selected for the workshop will receive a track and sheet music for their respective song. On September 12, 2020, a coaching session will be offered via Zoom to the vocalist to align with what our vision is for their respective part.
KEY DATES
Video Audition Deadline: Midnight on August 14, 2020
Video Review: August 18-20, 2020
Zoom Coaching: September 12, 2020
DISCLAIMERS
All scripts and recorded materials supplied to actors during the audition phase and workshop development remain the intellectual property of Mary: Her Story, developed by Amber Frangos and Maria McNeil.
There is no expressed or implied contract between Amber Frangos and Maria McNeil with any participant in the audition phase or the workshop being developed by Flashback Theater.
The participants understand that their image/voice may be used for promotional, developmental and/or other purposes used to develop Mary: Her Story without remuneration.
CONTACT INFORMATION
Should you have any questions regarding the audition process or the workshop, please reach out to Amber Frangos at amber@flashbacktheater.co or Flashback's New Play Coordinator, Ashton Todd, at ashton@flashbacktheater.co. We look forward to hearing from you!