Flashback Theater is ready to whet your appetite for their next season of productions at their 4th Annual Season Announcement Cabaret! This year, performers of all ages are cooking up some seriously fun songs and monologues that fall under the theme "Hungry for Theater." The Cabaret will be held on April 14th at 7:00 p.m. at Flashback Theater, located at 808 Monticello Street in downtown Somerset. The event is sure to be a treat for all!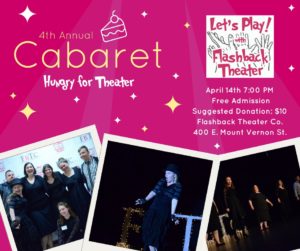 Every year, local actors audition with songs from popular musical works as well as original works written specifically for the event.This year will feature selections from Waitress, Hedwig and the Angry Inch, Beauty and the Beast, and even the recent theatrical feature, The Greatest Showman. Audience members can look forward to seeing exciting group performances as well as single performers. Once selected, each act was given complimentary coaching time through FbTC's partnership with McNeil Music Center. Many featured performers are members of the 2018 Let's Play! Company, as well as other Flashback Theater veterans, but you can also expect to see new faces in the mix.
Musical lovers will recognize many of the numbers of the evening, and may be introduced to new favorites as well. The line up for the night is as follows:
Maxine Baughman and Chris Harris – "That's Amore" from The Caddy
Renny Yeager – "The Big Black Giant" from Me and Juliet
Alexandra George – "Think of Meryl Streep" from Fame the Musical
Bella Allison – "What Baking Can Do" from Waitress
Jade Ellis – "Sugar Daddy" from Hedwig and The Angry Inch
Chloe Crabb – "A Million Dreams" from The Greatest Showman
Chris Harris – "The Not So Bad Wolf" an original monologue
Bailey Patterson, Chloe Crabb, and Maxine Baughman – "Candy Store" from Heathers
Renate Dopp – "I'm a Star" by Scott Alan
Maxine Baughman & Cabaret Company – "Be Our Guest" from Beauty and Beast
In between these tantalizing acts, you'll get a glimpse at the season of shows planned for production by Flashback Theater in the 2018-2019 season. Also to be announced will be the season of Let's Play! events, which allows us to continue providing educational theater opportunities throughout the year. All donations received at the cabaret will go towards Let's Play! programming. A donation of $10 is suggested for this event.
Location:
Flashback Theater Co.
400 East Mount Vernon St.
Somerset, KY 42501
Date and Time:
April 14th at 7:00 p.m.
Cost:
Suggested Donation of $10