Second Saturday Workshops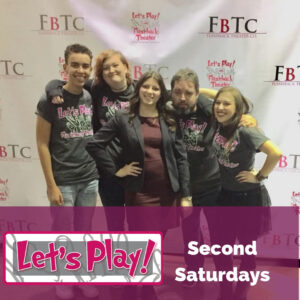 Our Second Saturday events are monthly get-togethers that have grown to become one of our favorite regular events. Each month we don't have a production scheduled, we meet in the Black Box to play improvisation games or learn new techniques. At our Second Saturday events, we strive to promote a fun and relaxed atmosphere. Actors of all ages and experience levels are encouraged to participate. All that is needed to enjoy a workshop is a collaborative spirit and a willingness to say "yes!" Everyone is welcome in the theater!
Next Workshop:
TBD
Don't want to miss the next one, whenever that may be? Sign up for our email list today and get up-to-date delivered to your inbox.
How did Second Saturdays get started?
In November 2014 the Second Saturday workshop was born in the Shopville Gymnasium when Flashback hosted a free event called "Let's Play! A 10-Minute Flash Play Festival!" Not only was this the first ever Let's Play! event, but it was also the first ever Flashback Theater event. From there Flashback continued to provide a free workshop every Second Saturday of the month with themes like Storytelling, Playwright's Choice, and the audience favorite, Improv Games.