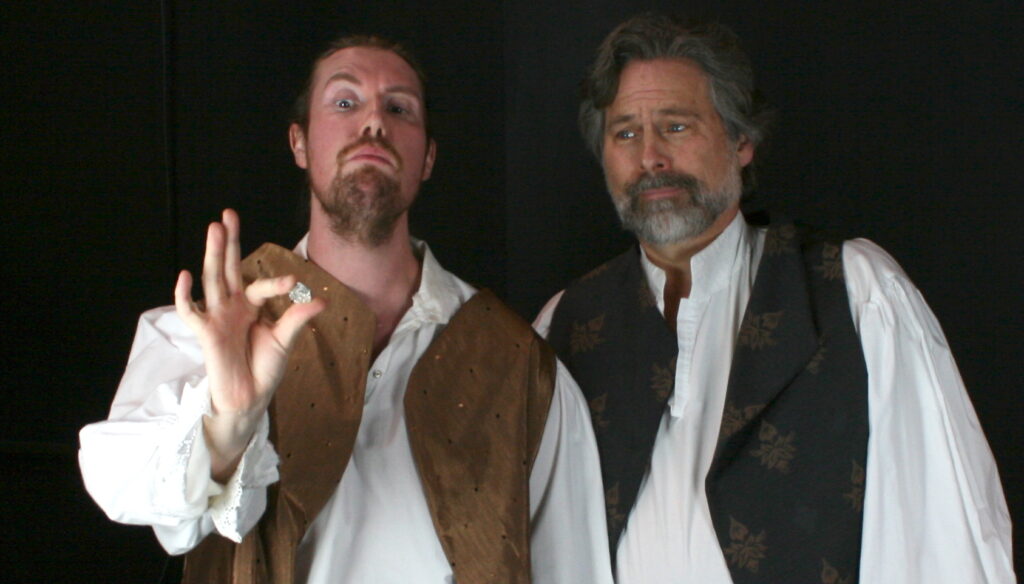 Flashback Theater Co. (FbTC) continues the 2019-20 season of productions with Rosencrantz and Guildenstern are Dead by Tom Stoppard in February 2020. The play is a retelling of William Shakespeare's work, from the perspective of two minor characters questioning their role in the events surrounding the tragic events of Hamlet. Tickets will go on sale to the public January 21, 2020.
Directed by Jade Ellis, the production will bring out the comedy of a well-worn tragic tale, allowing audiences to love and laugh with the characters who are as confused as anyone about what to do next in life.  Jade Ellis previously directed Miss Bennet: Christmas at Pemberley at Flashback Theater in December 2018. Prior to directing, Ellis had appeared on FbTC and SCC stages for many years.
"I'm so excited about this all-star cast and crew," comments Ellis. "They are all powerhouses of creative energy and talent." 
The title characters will be played by Steve Cleberg (Guildenstern) and Keifer Adkins (Rosencrantz). Joining them as Player and Alfred are Sommer Schoch and Theresa Jean Kibby, respectively. 
"The onstage dynamic between Steve and Keifer is incredible," Ellis continues. "As is the energy between Sommer and Theresa. Working with these artists, in this capacity, is a dream come true for me."
Steve Cleberg is known throughout the region for leading the Theatre & Film department at Somerset Community College. His theater experience includes over 30 years of performing, directing, and design credits. He was last seen on Somerset stages 14 years ago and eagerly anticipates his return to his original passion: acting!
Keifer Adkins continues his work with FbTC as a Professional Ensemble member. He made his Flashback debut in last year's Boats Against the Current by Bill McCann and continued showing off his acting chops in September's American Hero. He got his start on the stage in Cleberg's SCC program and continued on to WKU for a theater degree. 
Sommer Schoch makes her FbTC acting debut, having spent the last five years primarily as a director of the budding company's shows. With Ellis taking the helm of this production, she is able to return to the acting side of things for the first time in nearly 5 years. Before turning to directing, her acting experience spanned years of community shows at the Star Theatre in Russell Springs. 
Theresa Jean Kibby was last seen at FbTC as Music Director for the successful run of Pirates of Penzance in June 2019. She is also known for her stage work at SCC and FbTC, having most recently performing in Radio Suspense Theatre: The Final Episode at SCC.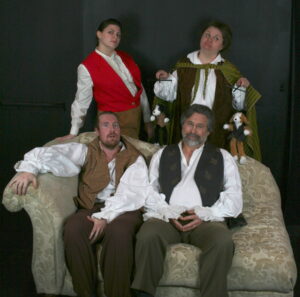 Together, these four actors make up the bulk of the production but a cast of characters fill out the ensemble, including Thomas Alvey, Martha Pratt, Carol Rogers, Bailey Patterson, and newcomer Tyler Harting.
Thomas Alvey (Hamlet) comes from Lindsey Wilson College's theater program and is currently pursuing a playwriting MFA. His previous work at FbTC included American Hero and Local Shorts. He will also be featured in the upcoming May production of Hazard County.
Martha Pratt (Claudius) is a regular performer at FbTC. She was in Local Shorts, Pirates of Penzance, and Miss Bennet: Christmas at Pemberley in the past year, showcasing her versatility as a performer. 
Carol Rogers (Gertrude) has many years of theater experience through her work in church drama programs. Audiences may remember her from Rosies: The Women Who Riveted the Nation, having played Minnie, Rose's mother. 
Bailey Patterson (Ophelia) is the youngest of the cast members but comes with plenty of stage experience through her work at FbTC and the Star Theatre in Russell Springs. She was previously cast in American Hero, Pirates of Penzance, Miss Bennet: Christmas at Pemberley, and Rosies: The Women Who Riveted the Nation. 
Tyler Harting (Polonius) is making his Flashback Theater debut. He has a theater degree from Lindsey Wilson College, where he performed in several productions. When not on stage, he finds the pulpit his home. He is the pastor of a church in Monticello and is currently attending seminary school. 
There will be six opportunities to catch this all-star cast on the stage! Rosencrantz and Guildenstern are Dead will be performed February 6-16, 2020 in the Black Box at Flashback Theater. Season ticket holders can reserve their seats beginning January 7 and single ticket buyers can make their reservation beginning January 21. 
This production is brought to you in partnership with our Title Sponsor, United Cumberland Bank. Additial production support comes from Lake Cumberland Regional Hospital. 
Flashback Theater is grateful to season sponsors, Applied Behavioral Advancements, LLC and M&W Printing for their ongoing support. Additionally, the Kentucky Arts Council, the state arts agency, provides operating support to Flashback Theater Co. with state tax dollars and federal funding from the National Endowment for the Arts. Additional support comes from Kentucky Tourism.
Location:
Flashback Theater Black Box
400 E Mount Vernon St.
Somerset, Kentucky
Tickets:
Adults – $18 Advance, $20 Door*
Students – $12 Advance, $15 Door*
Single tickets for this show will go on sale to the public on January 21, 2020. Season ticket holders are able to reserve their seats beginning January 7. *Each single ticket incurs a $1 ticket processing fee.
Box Office Hours:
Tuesday through Friday, 11:00 a.m. – 6:00 p.m.
Call (888) 394-FBTC ext. 1 for tickets.
Dates: 
Thursday, February 6, 2020 at 7:30 p.m.
Friday, February 7, 2020 at 7:30 p.m.
Sunday, February 9, 2020 at 2:30 p.m.
Friday, February 14, 2020 at 7:30 p.m.
Saturday, February 15, 2020 at 7:30 p.m.
Sunday, February 16, 2020 at 2:30 p.m.
To purchase tickets, click your preferred date above or call our box office at (888) 394-3282 ext. 1.