Auditions for our Season Announcement Cabaret will be held on March 21st from 6:00 p.m. – 8:00 p.m. and March 23rd from 10:00 a.m. – 12:00 p.m. at Flashback Theater Co. (FbTC). Performers selected will be featured in Flashback Theater's Fifth Annual Season Announcement Cabaret on April 13th at 7:00 p.m.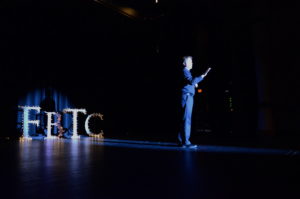 Each performer selected to participate in the Cabaret will receive a complimentary vocal and/or performance coaching from Steve Hall and/or Sommer Schoch during the first week of April. The coaching will be the performers' chance to refine and polish their material in advance of the public performance. Steve Hall, known for being the Executive Director at Over My Head, is a guest instructor at McNeil Music Center (MMC) and continues the annual collaboration between FbTC and MMC. 

The Cabaret has grown from a small performance to a evening-long event each year. "It has become a celebration of Flashback Theater and I like to think of it as a birthday party of sorts," says Schoch. "We look forward to the next year of productions but also have a chance to celebrate our growth as a performance community."

New to the Cabaret this year is the option of using a house band for musical performances. Performers may contact the Band Leader, Bradley Gilmore, to arrange for rehearsal time with the band at a reduced rate of $40/hr. The band includes guitar, bass guitar, drum kit, and keys. The rate will be adjusted if required instrumentation does not need the entire band. Gilmore is an established visual artist and musician in the community, and was part of the Little Shop band last year. He was most recently seen performing in FbTC's production of Miss Bennet: Christmas at Pemberley last December.

WHAT TO PREPARE:
Be ready to perform the material you would like to be considered for the Cabaret performance. It can be a monologue, scene, solo number, or group number from a staged musical, play, or original work.  If you have a headshot and performing resume, please bring them. Piano accompaniment will be provided for those who provide sheet music to audition@flashbacktheater.co by March 1, 2019. You may also bring your own accompaniment in the form of a music recording or another pianist. Please note all music at the Cabaret performance will be live and it is to your benefit to audition with live music.
BAND INFORMATION:
If you would like to utilize the band, you may contact Bradley at bshane.gilmore@gmail.com or (606) 875-3452 for a consultation. Please do so by March 1. Flashback Theater has arranged to have the band for auditions, the mandatory dress rehearsal, and the performance. Additional rehearsal time with the band will be the responsibility of the performer. It is recommended that you rehearse with the band prior to auditions if you would like to have them play for you at that time.
REHEARSAL & PERFORMANCE DATES:
The performance will be held Saturday, April 13 at 7:00 p.m. in the Black Box at Flashback Theater. A mandatory dress rehearsal will be held that morning at 10:00 a.m. Each performer or group will also schedule a private performance coaching in the first week of April.
AUDITION DATES:
March 21st, 2019  6:00 p.m. – 8:00 p.m. 
March 23rd, 2019 10:00 a.m. – 12:00 p.m.
Black Box at Flashback Theater 
400 E. Mount Vernon St. Somerset, Kentucky
Provide sheet music by March 1 to audition@flashbacktheater.co or in person at the address above. Participants wanting to use band instrumentation must also reach out to the band director by March 1 so the band has ample time to prepare.