Flashback Theater Co. (FbTC) and Lake Cumberland Regional Hospital Residency Programs present Every Brilliant Thing by Duncan Macmillan, with Jonny Donahoe October 27-29, 2022 as a 9:00 p.m. Fringe Show. Every Brilliant Thing is a one-actor show featuring Somerset Community College Fine Arts Coordinator and Instructor of Theatre, Julia Chereson, directed by Sommer Schoch, and assistant directed and stage managed by Keifer Adkins. Tickets are on sale now. 
A play about what we do for those we love, Every Brilliant Thing tells the story of a young woman writing a list of every brilliant thing about the world, in the hopes it will inspire her mother to find something worth living for. The play tackles issues of depression and suicide in full force, with new emotions every moment along the way. Julia Chereson, the featured performer, gracefully traverses the story in a way that allows the audience to appreciate the complexity of feeling helpless and paralyzed, while also finding appreciation in small things, from sunsets to falling in love with someone.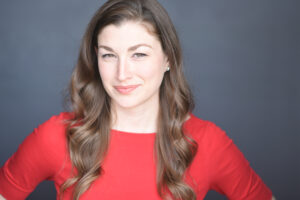 The following is an interview with Chereson.

FbTC: What does a typical day look like for you? 
Julia Chereson: I'm usually awakened before my alarm by a very hungry and demanding cat. Then I pull myself together and listen to an audiobook on my way to the theatre. Once I settle in – which always takes longer than I think it will – I hit my to-do list as hard as possible until it's time to teach my afternoon class. My students are usually either hungry or sleepy from having just eaten lunch so I use up all my energy trying to make them love theatre as much as I do (I think it's working). I dive back into my to-do list after class and somewhere in there I shovel some food in my mouth. Then I try to set aside at least one hour to rest before I have to be back for rehearsal in the evening. My typical day is jam-packed with theatre, which is truly a blessing. I'm very fortunate to get to do what I love.
What do you hope people get out of this production?
I hope that people leave the theatre feeling thankful for all the small and wonderful things that are a part of our everyday lives. And I hope that people can see the importance of having hard conversations and telling hard stories, because that is truly what protects us and saves us. Bottling up how we feel or what we're scared of only gives those fears and feelings more power. I think this show was written to give power to all of the little wonderful things that grace us day-to-day.  
What does this show/role mean to you?
That's a tough question. I've always had a hard time articulating what it is about theatre and performing that fuels me the way it does. This role is nameless, for one thing, and I think that's really important to my interpretation of the character. I get to be fully myself in a way, but I also get to be everyone in the room. Or the child of everyone in the room. Or everyone in the room's best friend. This character is wonderfully open in a way that we don't always get to be in our everyday lives and the openness feels terrifying and refreshing all at once. 
Are there any roles you feel called to right now?
When I was in undergrad I was in a production of How I Learned to Drive by Paula Vogel. Now that I'm the appropriate age for the role of Li'l Bit I'd really love to step into those shoes again. I'm a different person now than I was back then, and I know more – which is fortunate and unfortunate all at the same time. I think I would have a totally different perspective. I'd love to see what new things I would discover now that I maybe missed back then.
Do you have a "show ritual"?
I eat a York Peppermint Pattie while I do my hair and makeup. It's an old silly ritual that started with my first college production and now I'm just too afraid to ever stop doing it. 
What have you learned about yourself in the process of this show? In the last 2 years?
You don't have enough time for me to fully answer this question. Before the pandemic I spent a lot of time trying to mold myself into the world of theatre based on what that world seemed to want. Then when everything started to shut down in 2020 I began asking myself "how do I want theatre to fit into my life?" instead of the other way around. I think these past two years have started to reveal the answer to that question for me. And this show has reminded me how much I love and need performance as a part of that answer. There was a time when I thought I could facilitate theatre without needing to perform, but I was wrong. Acting gives me a chance to directly connect with an audience and that connection is hands down one of the most brilliant things on this earth.
Sommer Schoch (Director) is the founder and Producing Artistic Director at FbTC. She studied Theatre & Entrepreneurship at Northern Kentucky University before pursuing a dual Master's degree in Arts Administration and Business Administration at the College-Conservatory of Music in Cincinnati. Her directing credits include many FbTC shows, such as The Dollmaker, Rosies: The Women Who Riveted the Nation, and Pirates of Penzance.
Keifer Adkins (Assistant Director & Stage Manager) is the Community Development Coordinator at FbTC. He studied and received a dual degree in Theatre and History at Western Kentucky University. Being mainly a performer, this is Keifer's first stage management and assistant director experience at FbTC. He has directed ten-minute plays and enjoys the small size but powerful effect of Fringe Series works.
Dates and Times
Thursday, October 27 at 9:00 p.m.
Friday, October 28 at 9:00 p.m.
Saturday, October 29 at 9:00 p.m.
Ticket Prices
Single tickets are available for $18 in advance or $20 at the door. Seating is assigned at the time of your ticket purchase and seating is limited. Current season ticket holders will be contacted the week of the 27th or after their season ticket purchase to confirm their performance reservation for this show.
Adults – $18 Advance, $20 Door
This production is recommended for mature audiences due to language and suggestive material. Viewer discretion advised.  Trigger Warning: Conversations surrounding suicide.
Tickets may be purchased online (www.flashbacktheater.co/events), in person at 400 East Mt. Vernon St, Somerset, KY 42501, Tuesday through Friday 11:00 a.m. – 5:00 p.m., or be reserved in advance by calling the box office at (888) 394-FbTC ext. 1. Advance ticket sales end online 2 hours prior to showtime. We accept all major credit cards. Exchanges may be made at no cost up to 24 hours prior to the ticketed performance by calling the box office. Season tickets are available to purchase for $65 and include Every Brilliant Thing, along with all the MainStage shows in the upcoming season: Miracle on 34th Street, The Book of Will, and Sweeney Todd.
A very special thank you to our 2022-23 Spotlight Sponsors: Applied Behavioral Advancements, City of Somerset, M&W Printing, and Footlight Sponsors: David Daring Rentals, Kinetic by Windstream, United Cumberland Bank, T. Ronald Kidd Trust, Fireborn Energy, and HealthMarkets for their continued support of FbTC's production of theater that speaks to the soul.  This production is brought to you in partnership with Title Sponsor: Lake Cumberland Regional Hospital Residency Programs Artist Sponsors: Quest Counseling, and Cintas.