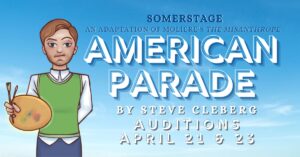 Flashback Theater is preparing to present the 2022 SomerStage production, The American Parade, and seeks ten adult performers to join the cast. The American Parade is an adaptation of Moliere's The Misanthrope, and was written by local playwright Steve Cleberg. Local theater artists and theater lovers interested in participating in Flashback's outdoor stage event are invited to audition or interview Thursday, April 21st or Saturday, April 23rd, 2022. In addition to adult performers, this production will include a junior cast opportunity for students from 12 to 18 years of age.
The American Parade is a comedy of manners set in New York City in 1918 during the Spanish Influenza, when tensions between society and political ideologies reached a boiling point. It follows a group of theatre people who get caught up in a scandal swirling around a controversial painting by an artist who has just returned from the war. The play employs multiple levels of theatrical illusion to explore the roles that members of our society portray.
A perusal script will be available at Flashback Theater and at this link for those wishing to review the show before auditioning. Performers and parents of possible junior cast members are encouraged to read this script before auditions.
Important Dates
Auditions
Thursday, April 21st from 5:30 p.m. to 7:30 p.m.
Saturday, April 23rd from 11:00 a.m. to 1:00 p.m.
Callbacks
May 1 at 3:00 p.m. *Additional callbacks may be scheduled to accommodate special circumstances, at the discretion of the production team.
Performances: July 21 – 31, 2022 (Junior Cast performance: July 31, 2022)
Mandatory Tech Rehearsals: July 17 – 20, 2022 
Table Work: June 1 – 4, 2022
Staging Rehearsals begin June 15, 2022
Production Information
The American Parade will rehearse in the Black Box at Flashback Theater, generally on weeknights. Performances will be held at the Joe Ford Amphitheater in Rocky Hollow Park, and are subject to cancellation due to weather conditions.
Available Roles
The following ages are for the main cast, and should not deter junior cast members.
Allen Chester – A Painter  (20s)
Phillip C. Browne – An actor, Allen's friend (20s)
Lilian O'Shea –  A Broadway theater manager (30s to 50s)
Celine Waverly – An actress, Allen's love interest (20s) *
Barbara – Celine's personal assistant (Any age)
Sammy Hall – A young actor, pursuing Celine (18/19) *
Dottie Porter – A drama critic (40s to 50s)
Effie Shannon – An actress, Celine's cousin (20s)
Tony Acosta – Another Broadway theater manager (40s to 50s)
Alice Waverly – Celine's sister, a woman's suffragette (30s)

*indicates singing role, the piece will be released to those considered for these roles to prepare for callbacks.
About Junior Cast Roles
The roles above will also be available for performers ages 12-18 for a Junior Cast opportunity. The Junior cast will gain practical production experience through observation of the main cast review session each week, followed by a dedicated rehearsal. Junior cast will have limited rehearsal time and MUST be present for all scheduled Junior cast rehearsals, including a technical rehearsal on Thursday, July 28. The Junior cast will perform in the evening on Sunday, July 31st.
What to Prepare
You should prepare a 1-2 minute monologue that showcases your stage presence and acting range.
Please bring a headshot and acting resume if available. You will fill out a contact form at your audition time. Email is our primary way of contacting actors for call backs, so please be sure you provide an email that you check regularly.
New to Flashback Theater?
By auditioning for the SomerStage production, you are indicating interest in being considered for a summer production, which will require commitment throughout June and July. You will be able to indicate on your audition form if you are unavailable for particular rehearsals. The director will be calling back individuals from this pool of talent based on your type, experience, and availability. For this reason, it is helpful if you bring a photo of yourself and a theater resume or list of previous theater experience for later reference.
You will fill out a contact form at your appointment. Email is our primary way of contact, so please be sure you provide an email that you check regularly. Our artists are typically paid a stipend to offset the costs of attending rehearsals. We are a semi-professional company, and we operate in a professional atmosphere. Our artists are treated with respect and we expect you to return that respect by showing up on time to all rehearsals and performances, and collaborating in a positive manner. Your audition or interview is the first opportunity to show your respect for the theater process and thus your ability to work well with us; so arrive early, be prepared, and always say "Thank you!"
Season Sponsors & Supporters
The American Parade is supported by our title sponsor, Midland Farms Fuel and Convenience and our artist sponsors, Lake Cumberland Regional Hospital Residency Programs, Somerset Community College, EHA CPAs, and Joy & Mark Brenzel.
FbTC is thankful for all sponsors and would like to recognize 2021-22 Season Spotlight Sponsors: ABA, LLC, The City of Somerset, M&W Printing, and Kentucky Tourism, Arts, and Heritage Cabinet and Footlight Sponsors: Kinetic by Windstream, David Daring Rentals and SPEDA, for their continued support of FbTC's production of theater that speaks to the soul.