Flashback Theater Co. (FbTC) will hold auditions in February and March for two spring performance opportunities. Opportunities include Ensemble roles in the world premiere of Mary: Her Story, and featured selections in the 8th Annual Season Announcement Cabaret. Auditions for Mary: Her Story will be held February 11th from 6:30 p.m. – 8:30 p.m. and February 12th from 10:00 a.m. – 12:00 p.m. for performances taking place May 12th through May 22nd of 2022. Season Announcement Cabaret auditions will be held on March 3rd from 7:00 p.m. – 9:30 p.m. and March 5th from 10:00 a.m. – 1:00 p.m. at FbTC. Performers selected will be featured in Flashback Theater's 8th Annual Season Announcement Cabaret on April 9th at 7:00 p.m.
Performance Information for
Mary: Her Story
Synopsis
A minor character with a major role in the Christian story takes the lead in this original musical work. Mary's very human story reveals the conflicts we all face when we question faith, love, and sacrifice. This world premiere will be presented by Flashback Theater and follows three years of dedicated workshop development and support.
Performance Dates: May 12-22, 2022
Dress Rehearsals: May 5-11, 2022
Ensemble members perform in major group numbers, but will not necessarily have solos or speaking roles in the production.
Mandatory Rehearsals:

All performers and production team members are required to attend every tech/dress rehearsal the week leading up to performances.

 

If you are not available during the week leading up to an opening night, you may be excused from the production.

Compensation:

We offer our artists a stipend for Mainstage productions, to offset the cost of attending rehearsals and performances. When you are offered a role, a contract will be sent to your given email address with compensation details. Compensation varies by role. 
Performance Information for the
8th Annual Season Announcement Cabaret
Each performer selected to participate in the Cabaret will receive a complimentary vocal and/or performance coaching from Billy Christopher Maupin and/or Sommer Schoch in the last two weeks of March. The coaching will be the performers' chance to refine and polish their material in advance of the public performance. Billy Christopher Maupin is an experienced performer and vocalist with an extensive professional resume, and recently directed Flashback Theater's November 2021 production of All Together Now! The Cabaret is an annual event that is designed to support performers in learning how to work on personal pieces and challenge themselves to learn and grow as artists.
This year, performers are asked to select a performance piece that reflects the theme: Well Seasoned. Selections can be songs, monologues, or scenes from the theater canon or an original work written by the performer. 
"We have all experienced a lot over the past two years," says Schoch. "It feels like we've been simmering in our creative energy, and it feels to me like Flashback has really come into its own over the past year so our theme of 'Well Seasoned' will really celebrate that." 
Performers are encouraged to prepare a selection that showcases their own interpretation of the theme. 
WHAT TO PREPARE:
For Mary: Her Story: 
You should prepare a 30 – 60 second cut of a song that shows your best expressive singing voice (where you are most comfortable singing).  You will need to provide any required accompaniment for your audition – a piano and a bluetooth speaker will be available.  You will be provided sides at the audition for a cold read.
Please bring a headshot and acting resume if available. You will fill out a contact form at your audition time. Email is our primary way of contacting actors, so please be sure you provide an email that you check regularly.
For 8th Annual Season Announcement Cabaret:
Be ready to perform the material you would like to be considered for the Cabaret performance. It can be a monologue, scene, solo number, or group number from a staged musical, play, or original work.  If you have a headshot and performing resume, please bring them. Piano accompaniment will be provided for those who provide sheet music to sm@flashbacktheater.co by February 20, 2022. You may also bring your own accompaniment in the form of a music recording or another pianist. Please note all music at the Cabaret performance will be live and it is to your benefit to audition to live music. 
REHEARSAL & PERFORMANCE DATES:
Rehearsals for Mary: Her Story begin March 22, 2022, in the Black Box at Flashback Theater with performances on weekends of May 12th through May 22nd, 2022. A mandatory tech week will start on May 5th and continue through May 11th, 2022. (There will be no rehearsal on Saturday, May 7th.)
The Season Announcement Cabaret will be held Saturday, April 9 at 7:00 p.m. in the Black Box at Flashback Theater. A mandatory dress rehearsal will be held that morning at 10:00 a.m. Each performer or group will also schedule a private performance coaching between March 22 and April 1, 2022.
AUDITION DATES:
Auditions are by appointment only; please follow the appropriate sign up link to reserve your audition slot.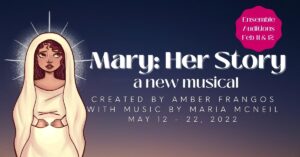 Mary: Her Story
Friday, February 11th 6:30 p.m. – 8:30 p.m.
Saturday, February 12th, 10:00 a.m. – 12:00 p.m.
Black Box at Flashback Theater
400 E. Mount Vernon St. Somerset, Kentucky
Sign up for a Mary: Her Story audition appointment here!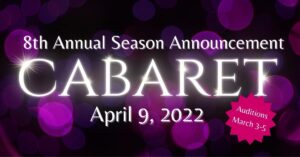 Season Announcement Cabaret
Thursday, March 3rd, 2022  7:00 p.m. – 9:00 p.m.
Saturday, March 5th, 2022 10:00 a.m. – 1:00 p.m.
Black Box at Flashback Theater 
400 E. Mount Vernon St. Somerset, Kentucky
Provide sheet music by February 20 to sm@flashbacktheater.co or in person at the address above.