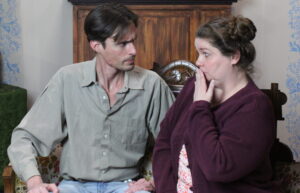 Flashback Theater Co. (FbTC) enters 2022, accompanied by Agatha Christie with the lead pipe, in the library? No, no, no, but surely Agatha Christie's classic, The Mousetrap, holds the answer to another mystery… The longest running theater secret comes to Somerset, Kentucky February 10th through 20th, 2022. The Mousetrap is a classic murder mystery which has had an extensive (almost 70 year) run on London's West End. FbTC and United Cumberland Bank will be presenting this well-loved piece in a proscenium configuration at the Black Box Theater and tickets are now on sale.
After a local woman is murdered, the guests and staff at Monkswell Manor find themselves stranded during a snowstorm. It soon becomes clear that the killer is among them, and the seven strangers grow increasingly suspicious of one another. A police detective, arriving on skis, interrogates the suspects: the newlyweds running the house; a spinster with a curious background; an architect who seems better equipped to be a chef; a retired Army major; a strange little man who claims his car has overturned in a drift; and a jurist who makes life miserable for everyone. When a second murder takes place, tensions and fears escalate. This record-breaking murder mystery features a brilliant surprise finish from Dame Agatha Christie, the foremost mystery writer of her time.
With showings beginning in 1952, The Mousetrap is the longest continuously running show on the West End in London, England. The show has been performed over 28,200 times as of June 2021 and reopened in May of 2021 after being shut down in March 2020 due to the COVID-19 pandemic. Turns out, not even a global pandemic can stop tradition. Flashback brings that tradition to Somerset with an eclectic cast of characters portrayed by Theresa Jean Kibby, Seth Hart, Martha Pratt, Sharon Whitehead, Scott Sexton, Johnna Atkinson-Bigelow, Billy Christopher Maupin, and Thomas Alvey, directed by Jade Ellis.
Jade Ellis directs her third mainstage show after the success of Rosencrantz and Guildenstern are Dead! in February of 2020 and Miss Bennet: Christmas at Pemberley in December 2018. Prior to directing Ellis had appeared on FbTC and SCC stages for many years. 
Ellis believes that this particular production will be interesting as the actors will not be donning the "typical" English dialect that often accompanies classic plays. Instead, actors will be speaking in their every day voices to help the audiences of Somerset connect with the story. "I don't feel the dialects would add much to the performance, but there is one surprise character that may or may not have some type of an accent." So worry not, there will still be an interesting flair for the audience to enjoy. 
"Another difference from us and the West End is: our production is in a black box." The Black Box Theater has become a staple for FbTC performances, as the space has the ability to change as much as the productions do, and allows the audiences to get an intimate performance that is not available to audiences in a traditional theater, known as a proscenium arch theater. However, the classic of The Mousetrap calls for the classic of the proscenium feeling. 
The set, designed by retired Somerset Community College Director of Theatre & Film, Steve Cleberg, alludes to that traditional viewing of a theater production. "I'm thoroughly excited to have Steve, of SCC legends, designing and building our very gorgeous set. We are thrilled to have him on the project!" said Ellis. And with a set designed specifically to incite intrigue, The Mousetrap set is sure to have audiences pondering how Cleberg was able to build such an elaborate piece in the black box.
Finally, Ellis is excited to introduce three new faces to the FbTC stage. Seth Hart, Sharon Whitehead, and Johnna Atkinson-Bigelow make their Flashback debuts in The Mousetrap.
Ellis stated, "I am so excited to see how the actors interact with one another and bring these rich characters to life. There were some good things happening at our table read, and I can't wait to see the characters develop collectively, because it is such an ensemble piece. How their voices blend and work together is going to be very exciting for the audiences of Somerset, Kentucky." 
Tickets for The Mousetrap are on sale now! Come see The Mousetrap and learn the answer to theater's greatest kept secret!
FbTC is thankful for all sponsors and would like to recognize 2021-22 Season Spotlight  
Sponsors: ABA, LLC, The City of Somerset, M&W Printing, and Kentucky Tourism, Arts, and Heritage Cabinet and Footlight Sponsors: Kinetic by Windstream, David Daring Rentals and SPEDA, for their continued support of FbTC's production of theater that speaks to the soul.
This production is brought to you in partnership with Title Sponsor: United Cumberland Bank. Artist Sponsors: Pulaski County Government, Cumberland Lake Shell, Cintas, Don Franklin Family of Dealerships.
Dates and Times
Thursday, February 10, 2022 at 7:30 p.m.
Friday, February 11, 2022 at 7:30 p.m.
Sunday, February 13, 2022 at 2:30 p.m.
Friday, February 18, 2022 at 7:30 p.m.
Saturday, February 19, 2022 at 7:30 p.m.
Sunday, February 20, 2022 at 2:30 p.m.
Ticket Prices
Adults – $18 Advance, $20 Door
Students – $12 Advance, $15 Door
*Tickets subject to processing fees.
Tickets may be purchased online (www.flashbacktheater.co/events), in person at 400 East Mt. Vernon St, Somerset, KY 42501, Tuesday through Friday 11:00 a.m. – 5:00 p.m., or be reserved in advance by calling the box office at (888) 394-FbTC. Advance ticket sales end online 2 hours prior to showtime. We accept all major credit cards. Exchanges may be made at no cost up to 24 hours prior to the ticketed performance by calling the box office.