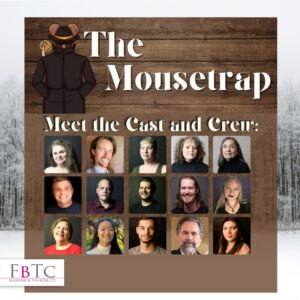 The longest running theater secret comes to Somerset, Kentucky in Agatha Christie's classic, The Mousetrap, presented by Flashback Theater Co. (FbTC) and United Cumberland Bank. The Mousetrap is slated to run February 10-20, 2022 in the Black Box Theater at 400 E Mount Vernon Street, Somerset, Kentucky. The play is a classic murder mystery with an extensive run on London's West End. FbTC will be presenting this piece with an eclectic cast of characters portrayed by Theresa Jean Kibby, Seth Hart, Martha Pratt, Sharon Whitehead, Scott Sexton, Johnna Atkinson-Bigelow, Billy Christopher Maupin, and Thomas Alvey, directed by Jade Ellis. Tickets for this production will go on sale January 18, 2022. 
Born in Torquay in 1890, Agatha Christie became, and remains, the best-selling novelist of all time. She is best known for her 66 detective novels and 14 short story collections, as well as the world's longest-running play: The Mousetrap. Her books have sold over a billion copies in the English language and a billion in translation.
Jade Ellis directs her third mainstage show after the success of Rosencrantz and Guildenstern are Dead! in February of 2020 and Miss Bennet: Christmas at Pemberley in December 2018. Prior to directing Ellis had appeared on FbTC and SCC stages for many years.
A radio broadcast telling of the murder of a local woman startles young newlyweds Giles and Mollie Ralston, played by Seth Hart and Theresa Jean Kibby, respectively. It will be the newlyweds' first night running a guest house just outside of London, Monkswell Manor, and things begin strangely as their guests, and a snowstorm, arrive.
Seth Hart (Giles) makes his Flashback debut! He is an artist from Monticello, KY, working full time as a Fine Arts Program Assistant/Instructor for the Cooperative Extension Service and independently as a potter and sculptor for his business, Art By Hart. He's performed in many productions at Good Neighbors Theater in Byrdstown, TN: A Midsummer Night's Dream (Demetrius), Arsenic and Old Lace (Mortimer), The Diviners (CC), Radio Suspense theater (Burns), and even The Mousetrap (Wren).
Theresa Jean Kibby (Mollie) is an evolving actress with many years of screen and stage experience including FbTC Credits: All Together Now! (soloist), Rosencrantz and Guildenstern are Dead (Alfred), Rosies: the Women Who Riveted the Nation (Kay), and Little Shop of Horrors (Chiffon). Kibby's experience also includes numerous film and theater projects with Somerset Community college including Steve Cleberg's Radio Suspense Theatre series.
First across the threshold is Christopher Wren, an aptly named architect played by Martha Pratt. Wren is a curious young man whose shift of eyes leave one to wonder what is happening underneath his messy head of hair. Following Wren is Mrs. Boyle, an elder woman who once was a magistrate, but now makes life miserable for all the guests and staff of Monkswell, played by Sharon Whitehead. Following is Major Metcalf, a retired Army major with a boisterous attitude, played by Scott Sexton. The last of the expected guests is a young Miss Casewell, a spinster with an unusual background and an attraction to making the other guests uncomfortable, played by Johnna Atkinson-Bigelow. 
Martha Pratt's (Christopher Wren) FbTC credits include: Every Christmas Story Ever Told…. And Then Some! (Martha), All Together Now! (Soloist), The Dollmaker (Gertie), The Lady's Not for Burning (Margaret), Rosencrantz and Guildenstern are Dead (Claudius), and workshops for Mary: Her Story.  She has also appeared at Somerset Community College and Good Neighbors Theatre in Byrdstown, Tennessee.
Sharon Whitehead (Mrs. Boyle) is a fresh face to Flashback, has acting credits that span many years, noted credits include: Pippin (Granny), The Heiress (Catherine), The Good Doctor (two productions), Crimes of the Heart (Meg), Hedda Gabler (Hedda), Night, Mother (Jessie). 
Scott Sexton's (Major Metcalfe) previous appearances with FbTC include All Together Now!, the Camp Anomaly web series, the second workshop of Mary: Her Story, and the 2021 Season Announcement Cabaret. Scott has directed 24 plays & musicals for middle & high school students. He currently serves as Director of Bands at Northern Middle School and Pulaski County High School.
Johnna Atkinson-Bigelow (Miss Casewell) is excited to be on stage after a 25+ year hiatus while raising her children, Braden and Brynlee.  After receiving her Theater degree from Georgetown College and Communications degree from UK, she has been teaching at Somerset Community College for 30 years. Johnna is married to her biggest fan, Brad.
As the storm subsides, a knock at the door startles the guests, Mr. Paravicini (played by Billy Christopher Maupin), a little man with a big personality enters, and tells the Ralstons his car has overturned in a snowdrift down the road from the manor.
Billy Christopher Maupin's (Mr. Paravicini) credits include FbTC: Every Christmas Story Ever Told… and Then Some! (Billy Christopher), All Together Now! (Director) Mary: Her Story (Workshops); Camp Anomaly. Other credits: Co-founder and Associate Artistic Director Emeritus. Carpenter Science Theatre Company Artistic Associate. STYLE Weekly "Top 40 Under 40".
As Mollie and Giles get their new guest settled, the phone rings. Mollie is told to expect the arrival of a detective by the name of Trotter, despite the roads being snowed over. As more details of the case are revealed via radio broadcast the guests are unsettled, until the arrival of Detective Sergeant Trotter, (played by Thomas Alvey), who reveals that the murderer left a glaring clue that he will kill again…and all roads lead to Monkswell Manor. When another murder takes place, tensions and accusations fly. No one can be trusted. Who murdered the woman in London, and why is the murderer targetting Monkswell Manor? Is anyone safe?
Thomas Alvey's (Detective Trotter) FbTC credits: Every Christmas Story Ever Told…. And Then Some! (Thomas), All Together Now! (Ensemble), Hazard County (Blake), Rosencrantz and Guildenstern are Dead (Hamlet) and American Hero (Bob). BA Theatre Arts, MFA Writing for the Screen and Stage. Writing: Another Time, Camp Anomaly, In Our Own Time, A Tender Meeting. @thethomasalvey
As the puzzle pieces start falling in place, Detective Trotter realizes the murderer is… well, we wouldn't be keeping the secret if we told you, now would we? Want to know whodunnit? Buy your tickets starting January 18, 2022 and come see Agatha Christie's The Mousetrap!
FbTC is thankful for all sponsors and would like to recognize 2021-22 Season Spotlight  
Sponsors: ABA, LLC, The City of Somerset, M&W Printing, and Kentucky Tourism, Arts, and Heritage Cabinet and Footlight Sponsors: Kinetic by Windstream, David Daring Rentals and SPEDA, for their continued support of FbTC's production of theater that speaks to the soul.  
This production is brought to you in partnership with Title Sponsor: United Cumberland Bank. Artist Sponsors: Pulaski County Government, Cumberland Lake Shell, Cintas, Don Franklin Family of Dealerships.
Dates and Times
Thursday, February 10, 2022 at 7:30 p.m.
Friday, February 11, 2022 at 7:30 p.m.
Sunday, February 13, 2022 at 2:30 p.m.
Friday, February 18, 2022 at 7:30 p.m.
Saturday, February 19, 2022 at 7:30 p.m.
Sunday, February 20, 2022 at 2:30 p.m.
Ticket Prices
Adults – $18 Advance, $20 Door
Students – $12 Advance, $15 Door
Seats are reserved at time of purchase.
Beginning January 18, tickets may be purchased online at www.flashbacktheater.co/events, in person at 400 East Mt. Vernon St, Somerset, KY 42501, Tuesday through Friday 11:00 a.m. – 5:00 p.m., or be reserved in advance by calling the box office at (888) 394-FbTC. Advance ticket sales end online 2 hours prior to showtime. We accept all major credit cards. Exchanges may be made at no cost up to 24 hours prior to the ticketed performance by calling the box office.