Flashback Theater Co. (FbTC) closes the 2019-20 season of productions with Hazard County by Allison Moore in July 2020 at the Lake Cumberland Farmers Market on E.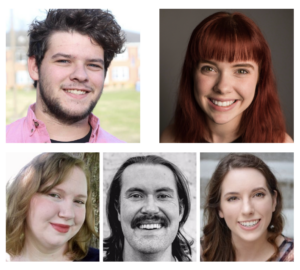 Mount Vernon St. The production team of Hazard County have worked with the non-profit's board to create a plan for performances to follow Social Distancing guidelines. Those who are familiar with Flashback will recognize members of the show's all-star cast, including: Thomas Alvey, Alex George, Martha Pratt, Keifer Adkins, and Lyndsey Jayne Pennington.
Hazard County tells the story of what happens when a young producer stumbles into town looking for stories and a fresh start. He believes he's found both in Ruth. Her made-for-TV tale captures his attention – a broke young widow in a rural Kentucky town, unable to access the trust fund set up for her children after her husband's murder. But neither of them has told the other the whole truth, and a past tainted by racism threatens to destroy Ruth's already shaky existence. This story is interspersed with memorable monologues from fans and critics of The Dukes of Hazzard, who blow apart the Southern stereotypes that tend to define Ruth's world. The show is directed by Bradley Gilmore and Sommer Schoch.
Bradley Gilmore makes his directorial debut with Flashback working on Hazard County. He appeared on-stage last season in Pirates of Penzance (Pirate King) and Miss Bennet: Christmas at Pemberley (Bingley.) He also played percussion in the band for the FbTC production of Little Shop of Horrors. Born and raised in Somerset, Kentucky, he has played in bands and been involved with music most of his life. Currently he teaches percussion and guitar at McNeil Music Center.
Sommer Schoch is the founder and Producing Artistic Director of Flashback Theater Co. She studied Theatre & Entrepreneurship at Northern Kentucky University before pursuing a dual Master's degree in Arts Administration and Business Administration at the College-Conservatory of Music in Cincinnati. She has directed numerous productions at Flashback including: American Hero, Boats Against the Current, and Rosies: The Women Who Riveted The Nation, and recently performed as Player in Rosencrantz & Guildenstern are Dead.
Though Blake and Ruth come from seemingly oppositional worlds, both are looking for a fresh start. Leading the cast in these principal roles are Thomas Alvey and Alex George.
Thomas Alvey (Blake) is excited to be working on his third show with FbTC, having appeared earlier this season in American Hero (Bob) and Rosencrantz and Guildernstern are Dead (Hamlet.) He is grateful to the Flashback team for giving him a new theater home and inspiring him every day. He is a graduate of the Theater program at Lindsey Wilson College, and is currently enrolled in the MFA Writing for the Screen and Stage program at Point Park University.
Alex George (Ruth) is a BFA Acting major at the University of Illinois at Urbana-Champaign. She is elated to be making theatre once again in her hometown of Somerset, the hub of the universe. Previous to her study in Illinois, Alex spent four years performing with her Flashback family and serving as the company manager for Flashback's Let's Play! program. She appeared last season in Pirates of Penzance (Frederic) and Miss Bennet: Christmas at Pemberley (Mary).
The cast is rounded out by Martha Pratt, Keifer Adkins, and Lyndsey Jayne Pennington as members of Ruth's tight knit family: Her sassy older cousin Camille and her rambunctious twins Quinn and Quintin. Adkins and Pennington also play a series of voices from all over the country musing on the effects of TV's The Dukes of Hazzard on southern stereotypes. 
Martha Pratt (Camille) returns to Flashback for Hazard County after appearing this season in Rosencrantz and Guildenstern are Dead (Claudius) and various short plays.  She performed last season in Miss Bennett: Christmas at Pemberley (Anne) and Pirates of Penzance (Kate).  She has also appeared in shows at Somerset Community College and Good Neighbors Theatre in Byrdstown, Tennessee.
Keifer Adkins (Quinn and Others) couldn't be more proud to call Flashback home. He holds degrees from Western Kentucky University in history and theatre with an acting concentration. Keifer currently works in Kroger's Clicklist department and, of course, with Flashback as a professional ensemble member and Chamber Ambassador. Audiences may recognize him as slimy sandwich shop employee Ted Cranston in American Hero or "explosively ruffled" Rosencrantz in Rosencrantz and Guildernstern are Dead.
Lyndsey Jayne Pennington (Quintin and others) is excited to be returning to the Flashback stage. Somerset audiences may remember Lyndsey as Audrey in Flashback Theater Co.'s 2018 production of Little Shop of Horrors. She is a recent graduate of the University of Kentucky, where she completed her BA in Theatre with minors in Vocal Performance and Appalachian Studies. Lyndsey will be joining the team at AthensWest Theatre Company for their 2021 season as an Acting/Artistic intern. Lyndsey is a proud local of Stearns, KY in McCreary County.
Keeping the production running smoothly as stage manager is Mandy Hieatt. She is joined on the production team by Trey Bray as sound designer and Josie Traver as scenic designer.
Making her debut as Stage Manager, Mandy Hieatt is excited to be a part of this production. Mandy worked last season as Costume Designer for American Hero, and Assistant Stage Manager for Rosencrantz and Guildenstern are Dead. Mandy is also a member of the MMC String Ensemble and Wind Ensemble, Lake Cumberland Chorus, Clinton County Alumni Band, and a Somerset-Pulaski County Chamber of Commerce Ambassador with her business Mandy Hieatt Services where she offers accounting and tax services.
Trey Bray is once again helming the sound design. You might've heard his work in Rosencrantz and Guildenstern Are Dead or American Hero, or seen him onstage at SCC.
Josie Traver joins the Hazard County team for her first Flashback production. She has previously worked with the Morehead Theatre Guild. She is in 8th grade at Southern Middle school and currently takes piano and voice lessons.
The production sponsors for this production include City of Somerset, McNeil Music Center, Lake Cumberland Tourism, David Daring Rentals, and Dr. Joseph and Libby Weigel. 
Flashback Theater is grateful to season sponsors, Applied Behavioral Advancements, LLC and M&W Printing for their ongoing support. Additionally, the Kentucky Arts Council, the state arts agency, provides operating support to Flashback Theater Co. with state tax dollars and federal funding from the National Endowment for the Arts. Additional support comes from Kentucky Tourism.
Location:

Lake Cumberland Farmers Market, Open Air Venue
on E. Mount Vernon St. Somerset, Kentucky
Dates:

Friday, July 17th 7:00 p.m.
Saturday, July 18th 7:00 p.m.
Sunday, July 19th 2:30 p.m.
Ticket Prices:
Suggested Donation: $10-$20

Hazard County is not ticketed, but is a Pay-What-You-Can Performance.
Season subscribers will have access to a reserved seating area.