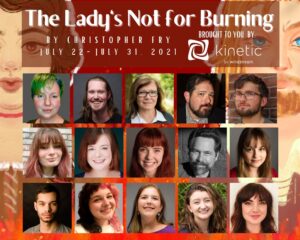 Flashback Theater Co. (FbTC) will continue their summer 2021 season of productions with The Lady's Not for Burning by Christopher Fry, brought to you by Kinetic by Windstream. The show will run weekends July 22 – July 31, 2021 at the Joe Ford Amphitheater in Rocky Hollow Park. As the production will take place at an outdoor venue, Flashback encourages the audience to bring their own seating. Christopher Fry's lyrical language will be brought to life by a colorful cast of local theatre artists including: Keifer Adkins, Alex George, Steve Cleberg, Chris Dickens, Trey Brey, Eli Parker, Bailey Patterson, Martha Pratt, Izz Allison, Tiffany Warren, Amelia Hall, Amber Frangos, Renate Dopp, Lexie Woodroof, and Haley Hutchins.
The Lady's Not For Burning turns a pastoral comedy on its head by questioning societal ideals of justice: Thomas Mendip, weary of the world, comes to a small town and demands to be hanged. A philosophical humorist, Thomas is annoyed when officials deny his request, even believing he is not guilty of the crime he admits. Shortly afterward, a young woman, Jennet, is brought before the Mayor for witchcraft, but for some strange reason she has no wish to be put to death! Thomas tries to prove how absurd it would be to refuse to hang a man who wants to be hanged, and at the same time execute a woman who is not only guiltless, but doesn't want to die. The show is directed by Amber Frangos.
Amber Frangos, the resident playwright at Flashback Theater, makes her mainstage directing debut with Lady. Her work as a playwright is extensive: her play Rosies: The Women Who Riveted The Nation received a grant from The Kentucky Foundation For Women for development that lead to its world premiere at Flashback Theater in May 2018. Her screenplay (short), Take It For A Spin, launched at the Autumn Shorts Film Festival at Somerset Community College in the fall of 2018.  Even More Cowbell (10 minute play) was produced in the Artist Collaborative at Somerset Community College in the spring of 2017. During the pandemic, she has directed and written short plays for Flashback Theater's Patreon account. Her current writing projects are: A Bad Day Just Got Worse, Leo: One Man's Journey Through Breast Cancer, Behind These Doors and Mary: Her Story – an original musical scheduled for production at Flashback in May 2022.
The primary conflict of the play is between its two protagonists: Thomas Mendip (played by Keifer Adkins), a dispatched soldier at the end of the war, is sure that his life has served his purpose and that his end is near. This belief is challenged by his perchance meeting with the titular lady, Jennet Jourdemayne (played by Alex George), an alchemist's daughter with an eccentric take on life. Having been falsely sentenced to death, Jennet is in a desperate fight to stay alive, and Thomas begrudgingly finds himself as her best ally.
Mainly a performer, Keifer Adkins (Thomas) currently serves as the Community Development Coordinator for Flashback Theater in their Professional Ensemble company. He has worked in various theaters along the East Coast as well as within the state of Kentucky. You may have seen him play a montage of characters in the last FbTC production, Hazard County. In his spare time, Keifer enjoys bodybuilding, traveling, and serving as a Chamber Ambassador for the Somerset-Pulaski County Chamber of Commerce and member of the Young Professionals of Lake Cumberland.
Alex George (Jennet) is a rising junior in the BFA Acting Studio at the University of Illinois Urbana-Champaign. They are thrilled to spend their summer with their Flashback family in Somerset: the hub of the universe. A founding member of Flashback, they have worked with the company as an actor, teaching artist, and administrator. Their recent Flashback credits include The Dollmaker (Sophronie), Hazard County (Ruth), and The Pirates of Penzance (Frederic).
The Town's mayor Hebble Tyson (played by Steve Cleberg) finds himself in a precarious situation when his traditional views are challenged by Thomas and Jennet. His sister Margaet (played by Martha Pratt) is struck by the dilemma- but is first and foremost concerned with how it affects her son's upcoming wedding.
Steve Cleberg (Mayor Tyson/Skipps) retired as the Director of Theatre Arts at Somerset Community College in 2020. He has directed and acted in over one hundred plays. Cleberg's acting credits include key roles in Rosencrantz & Guildenstern Are Dead, The Tempest, The Rainmaker, Betrayal, A Midsummer Night's Dream, Hello Dolly, and The Fantasticks.
Martha Pratt (Margaret) returns to Flashback Theater after having appeared previously this season in The Dollmaker as Gertie. She has performed in several shows in previous seasons at Flashback: Rosencrantz and Guildenstern are Dead (Claudius), Miss Bennet: Christmas at Pemberley (Anne), Pirates of Penzance (Kate), and projects such as the workshop for Mary: Her Story. She has also appeared in productions at Somerset Community College and Good Neighbors Theatre in Byrdstown, Tennessee.
Margaret's bumbling sons Nicholas and Humphrey (played by Chris Dickens and Trey Bray, respectively) are still arguing over who is best suited as the groom to Alizon Eliot (played by Bailey Patterson). However, the intended young bride, fresh out of a convent, seems to have taken an interest in the Mayor's young orphan clerk, Richard (played by Eli Parker), rather than either of her would-be suitors.
A former student at SCC, Chris Dickens (Nicholas) has been in various plays and productions in the "Little Theater" there and appeared as one of the Ernests in Flashback's 2016 production of The Importance of Being Earnest. He has also appeared in historic sketches for Clinton County's Foothills Festival. He resides in Burkesville, KY in Cumberland County where he transports vehicles for a local dealership. He is a single father of a 9 year old daughter who "loves to watch Daddy act." You may catch Chris in a commercial or two on television!
Trey Bray (Humphrey) is overjoyed to once again be working with Flashback Theater. This is his first role onstage with Flashback, but you might have heard his work as sound designer in previous FbTC shows like Boats Against The Current or Rosencrantz and Guildenstern Are Dead. Previously, he was seen acting in A Midsummer Night's Dream at SCC. He also serves on the production team as the Sound Designer for the production. Regardless, his passion for performing arts and dedication to his craft is on full display!
Bailey Patterson (Alizon) is excited to return to Flashback! She is a rising sophomore at the University of Kentucky, and is working toward her Theatre BA. Bailey has been involved with Flashback since 2016, and most recently was seen as Ophelia in Rosencrantz and Guildenstern are Dead and Sheri in American Hero.
Eli Parker (Richard) is an up-and-coming actor and The Lady's Not For Burning will be his first theatrical role with Flashback. Having experience in PCHS's Drama Club, Eli made his debut in community theater in Radio Suspense Theatre: The Final Episode at Somerset Community College. Since then, he's had roles in film projects with MTS Pictures, Cleberg Studio's The People of Spoon River, and audio dramas by Flashback Theater.
Brought to the mayor's aid to help him make his difficult decision, as well as to shed some comedic light on the production, are Justice Tappercoom and the Chaplain (played by Tiffany Warren and Izz Allison, respectively).
Tiffany Warren (Tappercoom) will be a senior this fall at Northern Kentucky University and will graduate with her BA in Theatre. Locally, she has performed at Somerset Community College in A Midsummer Night's Dream, Radio Suspense Theatre: The Final Episode, and a short film called The Marriage Proposal. She debuted at Flashback in American Hero as well as two locally written short plays in 2019.
Izz Allison (Chaplain) is very excited to do live theatre at Flashback Theater again! She was previously seen as Cindy in To Leave A Land, Ensemble in Pirates of Penzance, and Jennica in Flashback Theater's radio drama, Camp Anomaly. Izz will be pursuing a BA in Theatre at Northern Kentucky University starting this fall.
Serving as the understudy for Humphrey is student Amelia Hall.
Amelia Hall (Humphrey Understudy) has been involved in theater for 10 years. She has been seen acting in plays such as Shrek Jr. and Alice in Wonderland at Lake Cumberland Children's Theater. She was previously involved at Flashback Theater Co. in Rosies: The Women Who Riveted The Nation as the Assistant Director. She is an aspiring musician and vocalist who plays multiple instruments.
Keeping the production running smoothly as stage manager is Renate Dopp, with help from her assistant stage manager Lexie Woodroof. Costume designer Haley Hutchins will once again bring her vision and style to the stage in the show's costumes.
Renate Dopp is grateful for theater to be back in her life! Renate is a Professional Ensemble company member at Flashback. She was stage manager for The Dollmaker, Rosencrantz and Guildenstern Are Dead, Pirates of Penzance, Miss Bennet: Christmas at Pemberley, and Every Christmas Story Ever Told….And Then Some! at Flashback in past years. Previous FBTC acting work includes A Nightmare on Backstreet: A Boy Band Musical Parody (Teddy Crooner), Little Shop of Horrors (voice of Audrey II), and Season Announcement Cabarets.
Lexie Woodroof is a student at Northern Kentucky University working on getting her BFA in Musical Theatre Performance. While she does love performing and being onstage, this summer Lexie is expanding her theatre experiences into directing, stage managing, teaching, and writing. She is most excited to be back in her hometown doing theatre with the Flashback family.
Haley Hutchins is delighted to be back at Flashback. She hails from Monticello, Kentucky, and is pursuing her MFA in Costume Design and Technology at Southern Illinois University Carbondale. Previous credits include costume designing Macbeth, Rosencrantz and Guildenstern are Dead, and Once Upon a Mattress.
The Lady's Not For Burning is brought to you by title sponsor Kinetic by Windstream.
Artist sponsors for this production include David Daring Rentals, Fireborn Energy, Kentucky Utilities (A PPL Company), Hemisphere Limited, and Pepsi-Co of Somerset.
Design sponsors for this production include Evans, Harville, Atwell & Co, CPAs, PLLC, Kentucky Breast Care, and Greg Ousley Attorney At Law.
Flashback Theater is grateful to season sponsors, Applied Behavioral Advancements, LLC , The City of Somerset, M&W Printing, United Cumberland Bank, and Lake Cumberland Regional Hospital for their ongoing support. Additionally, the Kentucky Arts Council, the state arts agency, provides operating support to Flashback Theater Co. with state tax dollars and federal funding from the National Endowment for the Arts. Additional support comes from Kentucky Tourism.
Location:
Joe Ford Amphitheatre (bring your own seating)
Rocky Hollow Park
Somerset, Kentucky
Dates and Times:
Thursday, July 22 at 7:30 p.m.
Friday, July 23 at 7:30 p.m.
Sunday, July 25 at 7:30 p.m.
Friday, July 30 at 7:30 p.m.
Saturday, July 31 at 7:30 p.m.
Ticket Prices:
Adults – $18 Advance, $20 Door
Students – $12 Advance, $15 Door
*Plus applicable taxes and fees.