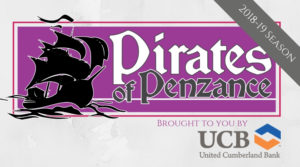 Flashback Theater Co. (FbTC), known for bringing audiences the musical production of Little Shop of Horrors, will continue the musical fun this summer with Pirates of Penzance by Gilbert and Sullivan. FbTC will produce this precursor to the modern musical June 6-16 in the Black Box Theater at 400 E. Mount Vernon St. in Somerset, Kentucky.
Gilbert and Sullivan's hilarious, hopeful farce follows young Frederic, an orphan who has mistakenly been apprenticed to an ineffectual (but raucous!) band of pirates. He disavows the pirates' way of life and falls for the beautiful Mabel when he sets out on his new life. Frederic's melodious tones win over the heart of Major-General Stanley's songbird daughter, Mabel, but when the Pirate King discovers that General Stanley has lied about being an orphan (to keep the pirates from stealing all of his belongings and carrying off his bevy of beautiful daughters), an "ingenious paradox" may prevent the budding romance and lead to the death of "the very model of a modern Major-General."
At the helm of the production are two well known theater artists in the area. Sommer Schoch will be Stage Director and Theresa Jean Kibby joins her as the Music Director. The pair have been carefully guiding the cast through the process of learning music since the beginning of the year, and are eager to begin putting it all together to tell the story.
Sommer Schoch is the Founder and Producing Artistic Director of Flashback Theater, and has directed most of the company's shows since its founding in 2014. Her theater experience encompasses a range of artistic and management roles, including work with Arena Stage in Washington, D.C., Cincinnati Shakespeare Company, and the College-Conservatory of Music at the University of Cincinnati. She studied theater and entrepreneurship at Northern Kentucky University before achieving a dual Master's degree at University of Cincinnati in Arts Administration and Business Administration.
Theresa Jean Kibby is recognizable to Flashback audiences due to her roles as Kay in Rosies: The Women Who Riveted the Nation and Chiffon in Little Shop of Horrors. Her performing arts work in the area is deep. Having been actively involved with the SCC Theatre & Film program for several years, she most recently played her dream role of Titania/Hippolyta last Fall in SCC's A Midsummer Night's Dream. In addition, she has served as a church choir director for 20 years. Her work on Pirates of Penzance as Music Director has allowed her to combine her love of theatre, opera, and leading a choir all in one magical production.
Renate Dopp rounds out the leadership team as Stage Manager. Renate was previously the stage manager for Miss Bennett: Christmas at Pemberley and Every Christmas Story Ever Told….And Then Some! at Flashback in past years.  Previous FBTC acting work includes A Nightmare on Backstreet: A Boy Band Musical Parody (Teddy Crooner), Little Shop of Horrors (voice of Audrey II), and Season Announcement Cabarets.
The principal actors in the cast are Amanda Balltrip, playing Mabel and Alex George, playing Frederic.
Alex George is proud to have been working with her Flashback family since 2015. She appeared earlier this season as Mary in Miss Bennet: Christmas at Pemberley. She also holds theatrical credits from SCC Theatre and Film, The Star Theater, Stage One Family Theatre, and Interlochen Center for The Arts. She will spend the rest of her summer in Michigan performing in Alice by Laura Wade before beginning study for her BFA in Acting at the University of Illinois Champaign-Urbana in the Fall.
Amanda Balltrip is thrilled to return to Flashback! Since 2015 she's been seen in several productions, but her personal favorites are Nightmare on Backstreet (Hip-Hop Stacy) and music directing Little Shop of Horrors. Amanda is a faculty member of McNeil Music Center, Governor's School for the Arts, and University of the Cumberlands. She proudly serves as President for Watershed Arts Alliance. Visit www.amandaballtrip.com for more.
Additional principals include Greg Moore, playing Major General Stanley, and Amber Frangos, playing Ruth.
Greg Moore's debut with Flashback is in what he calls one of his "bucket list" roles. A veteran of the Somerset theatrical community, He has played many roles, including Dr. Watson from The Hound Of The Baskervilles, and Sir Peter Teazle from School For Scandal. Most recently, he played Nick Bottom from A Midsummer Night's Dream with SCC Theatre. He loves musical theatre in particular and is elated to be playing Major General Stanley. When not on stage, Greg can be heard weekday mornings as the host of a local radio show.
Amber Frangos is the Resident Playwright at Flashback Theater, but she also enjoys performing as well. Her performances for FBTC include, And the Tide Shall Cover The Earth, Circle Mirror Transformation, The Importance of Being Earnest, A Nightmare on Backstreet, Miss Bennet: Christmas at Pemberley and Boats Against the Current. At Somerset Community College, her performances include Prometheus the Godfather, Sketches, The Dining Room and an adaptation of Shakespeare's A Midsummer Night's Dream.
Joining the principal actors  are supporting cast mates: Bradley Gilmore (Pirate King), Chris Harris (Sergeant of Police), and Lexie Woodroof (Mabel Cover).
This will be Bradley Gilmore's second performance on stage with Flashback Theater Co. as an actor. He played Bingley in Miss Bennet: Christmas at Pemberley and played percussion in the band for the FBTC production of Little Shop of Horrors. Born and raised in Somerset, Kentucky, he has played in bands and been involved with music most of his life. Currently, he teaches percussion and guitar at McNeil Music Center.
Chris Harris is a veteran of the Somerset stage, having appeared in numerous productions for both Somerset Community College and Flashback Theater Co. He has been active in Flashback's Let's Play! program and appeared in the company's plays  The Importance of Being Earnest and Around the World in 80 Days.
Lexie Woodroof is a senior at Somerset High School and plans to attend Northern Kentucky University for her BFA in Musical Theatre in the fall. She debuted at FbTC last spring in the second cast of Rosies: The Women Who Riveted the Nation as Rose. Lexie is excited to create and explore art for the foreseeable future.
Filling in many of the ensemble parts are Martha Pratt, Mandy Hieatt, Rick Winstead, Bailey Patterson, and Bella Allison.
Martha Pratt is excited to return for her second Flashback Theatre production, after playing Anne de Bourgh in Miss Bennett: Christmas at Pemberley.  She has appeared in plays at Somerset Community College- as various characters in The Dining Room and most recently Theseus and Oberon in an adaptation of A Midsummer Night's Dream.  She has directed and acted in shows at Good Neighbors Theatre in Byrdstown, TN.  Her credits at GNT include: Arsenic and Old Lace (Dr. Einstein, Directed), The Odd Couple (Female Version) (Florence Unger), Dearly Departed (Suzanne), and The Diviners (Melvin Wilder/singer).
Mandy Hieatt is excited to be returning to Flashback Theater Co. after appearing earlier this season as Daisy in Boats Against The Current. She is an accomplished musician, participating in several local musical organizations. Mandy owns and operates Mandy Hieatt Services where she provides accounting and tax services, music lessons, and other services. In 2014 she obtained her MBA in Accounting from St. Leo University. During her free time she enjoys spending time with her husband on their alpaca farm.
This is Rick Winstead's first on-stage appearance with Flashback Theater Co.  He has been on board as a bassist on multiple occasions with Flashback and McNeil Music Center over the past few years.  Rick lives in Science Hill and first became involved with musical performance around the age of eleven.
Bailey Patterson is excited to return to the Flashback stage for Pirates of Penzance! She is a junior at Southwestern High School who has long been involved in theatre. She is part of the FBTC's Let's Play! Company, and has performed with Missoula Children's Theatre, Lake Cumberland Children's Theatre, and Star Theater, and attended UK's musical theatre intensive the past summer.
Bella Allison is thrilled to be in her second production with FbTC! She was recently in the second cast of Rosies: The Women Who Riveted The Nation as Doris in May 2018. She's active with McNeil Music Center, Lake Cumberland Children's Theater, and her school's drama club. Thanks to the FbTC team, her teachers, and her superhero mother.
Assisting the production are Ty Garrett as Assistant Stage Manager and Rehearsal Assistants Livia Keith and Wynter Wilson. These behind-the-scenes roles keep the rehearsal process moving smoothly and will be integral to the many quick changes that the ensemble members will be making throughout the show.
Ty Garrett is a 19 year old graduate of Somerset High School. While at SHS, he was involved with SHS Musical Productions, where he acted in Beauty And The Beast, participated in Mary Poppins and Wizard of Oz, and was director's assistant for Shrek the Musical. Ty also stage managed for Lake Cumberland Children's Theatre during Madagascar The Musical.  He is currently a member of The Band Eleanor and leads worship for the youth at Science Hill Nazarene. He is studying voice at McNeil Music Center. Ty is and excited about his future with Flashback Theater Co!
Livia Keith is a vibrant young actress that has been working with Flashback Theater for over a year. She appeared as Janet in last season's Rosie's: The Women Who Riveted The Nation. Livia has also worked with Lake Cumberland Children's Theatre and The Star Theater in Russell Springs.
Wynter Wilson is a 7th grader at Southern Middle and has been involved with Flashback Theater Co. for several years. Last year she was cast in the role of Minnie in the junior cast of Rosies: Women Who Riveted the Nation. She has participated in many  other FbTC events as an usher and performer. She is a Girl Scout, Junior Amvet President, and involved in Archery, Choir, and Beta.
Location:
Flashback Theater Black Box
400 E Mount Vernon St.
Somerset, Kentucky
Tickets:
Adults – $18 Advance, $20 Door
Students – $12 Advance, $15 Door
*Plus applicable taxes and fees.
Single tickets for this show will go on sale to the public on May 14, 2019. Season ticket holders will be able to reserve their performance date and seat beginning April 30, 2019.
Box Office Hours:
Tuesday through Friday, 11:00 a.m. – 5:00 p.m.
Call (888) 394-FBTC for tickets.
Dates:
Thursday, June 6th at 7:30 p.m.
Friday, June 7th at 7:30 p.m.
Saturday, June 8th at 7:30 p.m.
Sunday, June 9th at 2:30 p.m.
Thursday, June 13th at 7:30 p.m.
Friday, June 14th at 7:30 p.m.
Saturday, June 15th at 7:30 p.m.
Sunday, June 16th at 2:30 p.m.
Flashback Theater is grateful to leading season sponsor, Applied Behavioral Advancements, LLC for their ongoing support. This production is brought to you in partnership with United Cumberland Bank. The following sponsors have made contributions to Pirates of Penzance: Lake Cumberland Regional Hospital, McNeil Music Center, WYKY 106.1 FM and WTLO 1480 AM/97.7 FM. Additionally, the Kentucky Arts Council, the state arts agency, provides operating support to Flashback Theater Co. with state tax dollars and federal funding from the National Endowment for the Arts. Additional season support also comes from Kentucky Tourism, M&W Printing, and Lumber King Building Supplies.