Casting Call for Summer Productions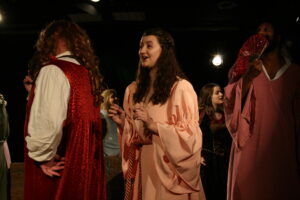 Flashback Theater Co. (FbTC) is seeking actors to fill roles in two outdoor summer productions, to be performed this June and July in Rocky Hollow park. Auditions will be held the week of April 13, via appointment only, in the Black Box at Flashback Theater. Callbacks will be held on Saturday, April 17 and will be scheduled following all audition appointments. Local theater artists and lovers are invited to sign up for an audition slot by April 12, 2021. 
Production Information
Two opportunities are available for interested performers. In June, an adaptation of Harriet Simpson Arnow's The Dollmaker, written by Betty Peterson, will be directed by Sommer Schoch and performed outdoors from June 17 – 27 at Joe Ford Amphitheater in Rocky Hollow Park. In July, Amber Frangos will direct The Lady's Not for Burning, by Christopher Fry, to be performed July 22- August 1 at the same venue. Each production will begin rehearsals in May. Actors should be prepared to provide all potential conflicts for May, June and July at their audition.
Important Dates
Auditions by appointment April 13 – 15
Callbacks will be held on April 17, schedule TBD 
The Dollmaker
Performances: June 17-20 & 24-27
Tech Rehearsals: June 13 – 16 (mandatory for all cast)
Rehearsals begin: May 4
The Lady's Not for Burning
Performances: July 22 – 25 & 29 – August 1
Tech Rehearsals: July 18 – 21 (mandatory for all cast)
Rehearsals begin: May 8
Show Synopses and Available Roles
The Dollmaker
Gertie Nevels, a pioneer woman and mother, is forced to uproot her children from the Kentucky hills to follow her husband to Detroit when he finds work during World War II. One setback follows another and a shattering tragedy strikes the family. It's all up to Gertie to find new strength, courage, and determination to keep her family together and strong. 
Gertie Nevels: Lead, 30s, mother of Cassie, Clytie, and Reuben, wants to find the best home for her family

Clovis Nevels: 30s-40s, Gertie's husband and father to kids, domineering

Clytie Nevels: 14, female, most mature child

Cassie Marie Nevels: 10, female, most youthful child, has an imaginary friend

Rueben Nevels: 12-13, male, most rebellious child, he has trouble adjusting to their new life and acts out aggressively

Grandma Kendrick: 60s-70s, Gertie's mother, manipulative, controlling, may be double cast with Mrs. Whittle

Lena Anderson: 30s, kind and gentle neighbor, befriends Gertie

Victor: Neighbor, married to Max, entrepreneurial immigrant.

Max: Neighbor, married to Victor, has good work ethic and lives to dream.

Sophronie Meanwell: 20's, Wheateye's mother, lady of the night and a little rough around the edges

Wheateye: 10, Sophronie's daughter 

Mrs. Whittle: School teacher, disrespectful of parents and children alike.
The Lady's Not For Burning
Thomas Mendip, weary of the world, comes to a small town and demands to be hanged. A philosophical humorist, Thomas is annoyed when officials deny his request, even believing he is not guilty of the crime he admits. Shortly afterward, a young woman, Jennet, is brought before the Mayor for witchcraft, but for some strange reason she has no wish to be put to death! Thomas tries to prove how absurd it would be to refuse to hang a man who wants to be hanged, and at the same time execute a woman who is not only guiltless, but doesn't want to die. 
Richard: 25-35, an orphaned clerk

Thomas Mendip: 20s – 30s, a discharged soldier

Alizon Eliot: 20-30s, fiancee of Nicholas

Nicholas Devize: 20-30s, engaged to Alizon

Margaret Devize: 40s-50s, mother of Nicholas 

Humphrey Devize: 20s-30s, brother of Nicholas

Hebble Tyson: Mayor (younger than Margaret)

Jennet Jourdemayne: 20-30s,  accused of witchcraft

The Chaplain: any age

Edward Tappercoom: any age, a justice

Matthew Skipps: any age, homeless
What to Expect
Actors should prepare 2 contrasting monologues that showcase your stage presence and acting range. Your two pieces should not exceed a combined length of 4 minutes. Please bring a current acting/performance resume and headshot to your audition as well. Sign up for your audition at this link: https://www.signupgenius.com/go/20F094AADAF2DA1FC1-audition. 
Covid Policy
Flashback Theater values and respects everyone's right to make the best decision for themselves when it comes to their own health and well-being. To help each person make an informed decision about whether they want to participate in our events, we have created a document to outline the policies and procedures that will be followed for our summer productions in regards to COVID precautions. Before auditioning, all actors should review the standing COVID policy for our productions at this link:  https://drive.google.com/file/d/1SWrX2esl5q8MnHVSobguqLxuXN7CbxcA/view?usp=sharing