Flashback Theater Co. (FbTC) will open their summer 2021 season of productions with Harriette Simpson Arnow's The Dollmaker, adapted by Betty Peterson, this June 17- 20, 2021 at the Joe Ford Amphitheater in Rocky Hollow Park. As the production will take place at an outdoor venue, Flashback encourages the audience to bring their own seating. Arnow's classic Kentucky story is best told by local voices; Local artists featured in this homespun performance include: Martha Pratt, Keifer Adkins, Amber Frangos, McKenzie Clay, Brynlee Dugger, Ian Muse, Wanda Fries, Tiffany Warren, Scott Sexton, Alex George, and Emily Miller.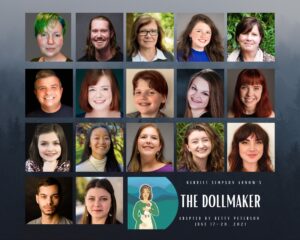 The Dollmaker is adapted from Harriet Simpson Arnow's 1954 novel of the same name by local playwright Betty Peterson. It tells the classic story of Gertie Nevels, a pioneer woman and mother, who is forced to uproot her children from the Kentucky hills to follow her husband to Detroit when he finds work during World War II. One setback follows another and a shattering tragedy strikes the family. It's all up to Gertie to find new strength, courage, and determination to keep her family together and strong. The show is directed by Sommer Schoch.
Betty Peterson was a professor of English at Somerset Community College, and an established local playwright. Her adaptation of The Dollmaker was commissioned by Somerset Community College with funding from the National Endowment for the Arts, and first premiered in 2003 at the Harriet Simpson Arnow Conference held on SCC's campus. Her other dramatic works include Pieces of String (performed Off-Broadway in NYC Dramatists Guild Performance of Shh! Led by the Kentucky Women's Playwrights Seminar Collaboration), Desert Flower (World Premiere produced at Horse Cave Theatre/Kentucky Repertory Theatre), River Dreams, The Good Daughter, and Real Daddy. Her earlier prose, fiction, and poetry has appeared in regional and national journals. Betty was a valued member of the Somerset theater community, and though she is dearly missed by her artistic peers, her voice lives on in her writing. Flashback is honored to share Betty Peterson's voice with the community through their production of The Dollmaker.
Sommer Schoch is the founder and Producing Artistic Director of Flashback Theater Co. She studied Theatre & Entrepreneurship at Northern Kentucky University before pursuing a dual Master's degree in Arts Administration and Business Administration at the College-Conservatory of Music in Cincinnati. She has directed numerous productions at Flashback including Hazard County, American Hero, Boats Against the Current, and Rosies: The Women Who Riveted The Nation. She performed as Player in last season's production of Rosencrantz & Guildenstern are Dead.
Harriette Simpson Arnow was an American novelist born in Wayne County, Kentucky in 1908. She worked as a teacher in Pulaski County before moving to Detroit, Michigan public housing in 1944. It was in 1954 that she would publish her famous "Great American Novel," The Dollmaker, to critical acclaim. The story is in some ways reflective of her own life, but is also indicative of the experience of many Appalachian families who moved North seeking economic wealth. Her other novels include: Mountain Path, Hunter's Horn, The Weedkiller's Daughter, The Kentucky Trace, Seedtime on the Cumberland, Flowering of the Cumerland, and memoir Old Burnside.
Gertie Nevels (played by Martha Pratt) is a talented craftswoman as well as a wife and mother. Gertie has a strong work ethic and stern beliefs in what is right for her family, but drastic changes to her lifestyle challenge the strength of these values. Gertie must discover her deep well of inner strength to remain true to herself despite the turmoil that surrounds her.
Martha Pratt (Gertie) returns to Flashback Theater for The Dollmaker as Gertie. She has performed in several shows in previous seasons at Flashback: Rosencrantz and Guildenstern are Dead (Claudius), Miss Bennett: Christmas at Pemberley (Anne), Pirates of Penzance (Kate), and projects such as the workshop for Mary: Her Story. She has also appeared in productions at Somerset Community College and Good Neighbors Theatre in Byrdstown, Tennessee.
The most important people in Gertie's world are her beloved family members. Though Gertie is hesitant to give up her plans in Kentucky to follow her husband Clovis (played by Keifer Adkins) to Detroit, her controlling Mother (played by Amber Frangos) convinces her it will be best for her three young children, Cassie, Clytie, and Reuben (played by BrynLee Dugger, McKenzie Clay, and Ian Muse, respectively).
Mainly a performer, Keifer Adkins (Clovis) currently serves as the Community Development Coordinator for Flashback Theater in their Professional Ensemble company. He has worked in various theaters along the East Coast as well as within the state of Kentucky. You may have seen him play a montage of characters in the last FbTC production, Hazard County (Quintin and others). In his spare time, Keifer enjoys bodybuilding, traveling, and writing spoken word.
Amber Frangos (Grandma and Mrs.Whittle) is the resident playwright at Flashback Theater Co. She has appeared onstage with Flashback most recently in The Pirates of Penzance (Ruth) and Boats Against The Current (Eleanor). Her play Rosies: The Women Who Riveted the Nation was produced at Flashback in May 2018. During the pandemic, she has directed and written short plays for Flashback Theater's Patreon account. Her current writing projects include A Bad Day Just Got Worse, Leo: One Man's Journey Through Breast Cancer, Behind These Doors and Mary: Her Story, an original musical scheduled for production at Flashback in May 2022.
BrynLee Dugger (Cassie) has performed in school productions of Jack and the Beanstalk, Cinderella, and The Jungle Book. She also performed in the Lake Cumberland Children's Theatre production of Frozen Jr. She was selected to sing at all-state choir and honors choirs, Music for Wishes, as well as singing at the Community Christmas tree lighting. BrynLee attends Northern Middle School.
McKenzie Clay (Clytie) has been interested in performing arts since she was young. She began performing in high school when she performed in The Diary of Anne Frank (Anne) and Annie Jr. She also played Sandy Sawyer in Radio Suspense Theater: The Final Chapter at SCC. This is McKenzie's first production with Flashback Theater.
Ian Muse (Reuben) has recently completed 7th grade at Meece Middle School where he is a straight "A" student. He studies acting locally with Amber Frangos and with Audrey Flegel in Los Angeles, CA. He is a vocal student with Maria McNeil at the McNeil Music Center. He has also studied both piano and drums. He has participated in acting workshops with Mary: Her Story, and other acting endeavors through the McNeil Music Center.
In Detroit, Gertie finds herself surrounded by a cast of colorful neighbors. Gentle housewife Lena (played by Wanda Fries) is fascinated by Gertie's god-given craftswoman talents. Max (played by Tiffany Warren) and her immigrant husband Victor (played by Scott Sexton) share Gertie's strong work ethic. Fellow Kentuckians Sophronie (played by Alex George) and her daughter Wheateye (played by Emily Miller) embrace the transition to the Detroit lifestyle.
Wanda Fries (Lena) is a fiction writer, poet, and teacher living in Somerset. Her roles at Somerset Community College, Stoner Little Theater include Viola in Love Scenes from Shakespeare; Marta in Waiting for the Parade; Nurse Ratched in One Flew over the Cuckoo's Nest; Daughter in Betty Peterson's Real Daddy and Joe's Mother in the short film Connected. At Lincoln Memorial University she portrayed Ruth in Blithe Spirit and Bobbi Michelle in Last of the Red Hot Lovers.
Tiffany Warren (Max) will be a senior at Northern Kentucky University this fall. She will graduate with a B.A. in Theatre. Locally, she has performed at Somerset Community College in A Midsummer Night's Dream, Radio Suspense Theatre: The Final Episode, and a short film called The Marriage Proposal. She debuted at Flashback in American Hero as well as two locally written short plays in 2019.
Scott Sexton (Victor) Sexton's previous appearances with FbTC include the Camp Anomaly web series, the second workshop of Mary: Her Story, and the 2021 Season Announcement Cabaret. Scott has directed 24 plays & musicals for middle & high school students. He currently serves as Director of Bands at Northern Middle School and Pulaski County High School.
Alex George (Sophronie) is a rising junior in the BFA Acting Studio at the University of Illinois Urbana-Champaign. They are thrilled to spend their summer with their Flashback family in Somerset: the hub of the universe! George is a founding member of Flashback, and since 2014 they have worked with the company as an actor, teaching artist, and administrator. Recent Flashback Credits include: Hazard County (Ruth), The Pirates of Penzance (Frederic), and Miss Bennet: Christmas at Pemberley (Mary).
Emily Miller (Wheateye) is a fourth grade student at Jones Park Elementary School in Liberty, KY. She enjoys many recreational activities including all star cheerleading, gymnastics, soccer, and crafting. This is her first acting opportunity and she is so excited to be part of Flashback Theater Co!
Keeping the production running smoothly as stage manager is Renate Dopp, with help from her assistant stage manager Josie Traver. They are joined on the production team by talented local theatre artists Lexie Woodroof as assistant director, Haley Hutchins as costume designer, and Trey Brey as sound designer..
Renate Dopp is grateful for theater to be back in her life! She was stage manager for Rosencrantz and Guildenstern Are Dead, Pirates of Penzance, Miss Bennett: Christmas at Pemberley, and Every Christmas Story Ever Told….And Then Some! at Flashback in past years. Previous FBTC acting work includes A Nightmare on Backstreet: A Boy Band Musical Parody (Teddy Crooner), Little Shop of Horrors (voice of Audrey II), and Season Announcement Cabarets.
This is Josie Traver's second play with Flashback! She is a freshman at Southwestern High School, and loves being a part of the art community. While being involved with piano and vocal, she enjoys watching theatre, which has inspired her to become a part of the production team. She worked previously on Flashback's production of Hazard County.
Lexie Woodroof is a student at Northern Kentucky University working on getting her Bachelor of Fine Arts in Musical Theatre Performance. While she does love performing and being onstage, this summer Lexie is expanding her theatre experiences into directing, stage managing, teaching, and writing. She is most excited to be back in her hometown doing theatre with the Flashback family.
Haley Hutchins is delighted to be back at Flashback. She hails from Monticello, Kentucky and is pursuing her MFA in Costume Design and Technology at Southern Illinois University Carbondale. Previous credits include costume designing Macbeth, Rosencrantz and Guildenstern are Dead, and Once Upon a Mattress.
Trey Bray is once again helming the sound design. You might've heard his work in Rosencrantz and Guildenstern Are Dead or American Hero, or seen him onstage at SCC.
Artist sponsors for this production include David Daring Rentals, Prairie Farms, Lake Cumberland Regional Hospital, First Southern National Bank, and Lake Cumberland Tourism.
Design sponsors for this production include Somerset-Pulaski County Chamber of Commerce, Dr. Mark and Cynthia Henry, SPEDA (Somerset-Pulaski Economic Development Authority), Don Franklin Somerset Family of Dealerships, Watershed Arts Alliance, and Chuck and Allison Sobieck.
Flashback Theater is grateful to season sponsors, Applied Behavioral Advancements, LLC , The City of Somerset, M&W Printing, United Cumberland Bank, and Lake Cumberland Regional Hospital Residential Programs for their ongoing support. Additionally, the Kentucky Arts Council, the state arts agency, provides operating support to Flashback Theater Co. with state tax dollars and federal funding from the National Endowment for the Arts. Additional support comes from Kentucky Tourism.
Location:
Joe Ford Amphitheatre (bring your own seating)
Rocky Hollow Park
Somerset, Kentucky
Tickets:
Adults – $18 Advance, $20 Door
Students – $12 Advance, $15 Door
*Plus applicable taxes and fees.
Patreon subscribers can make reservations beginning May 1, 2021.
Dates and Times:
Thursday, June 17 at 7:30 p.m.
Friday, June 18 at 7:30 p.m.
Saturday, June 19 at 7:30 p.m.
Sunday, June 20 at 2:30 p.m.
*Note: previously, this production was scheduled to run through June 27. Due to casting conflicts, we have removed the second weekend of performances.