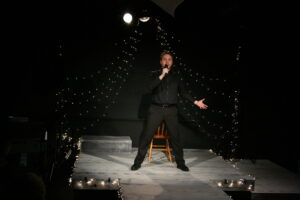 Flashback Theater Co. (FbTC) brings performances back with the annual Season Announcement Cabaret, to be held outdoors at Jarfly Brewing Co. and feature performances by local thespian artists. At the event, Sommer Schoch, the Producing Artistic Director, will announce FbTC's next season of shows and update audiences on the current season's move to outdoor, summer productions. The Cabaret will begin at 7:00 p.m. on Saturday, April 10 and will take place on the loading dock behind Jarfly. 
Last year, the Cabaret was caught by the early COVID-19 quarantine restrictions but went on as a virtual event on FbTC's Facebook page. Schoch talks about the difference in hosting the Cabaret in person this year. 
"We now have better expectations and safety precautions in place for our performers so they can feel comfortable," Schoch describes. "Ultimately, my job is to provide opportunities for performers to perform; if they aren't ready, I know they won't participate. But many are ready, as long as we follow the right protocols."
All in all, it is a kickoff precursor to a summer season of productions, to see how people respond and interact in the post-COVID world, as it relates to performances. "Some audiences may still sit this one out, but I know many are itching to see performances again," Schoch adds.
And the Cabaret may be the perfect time for audiences to see how they feel about getting back out in public for a performance again: it will be held outdoors and will be free of charge so it is a low-risk event and anyone can leave if they find it to be too close for comfort.
The Program:
Keifer Adkins and Steve Cleberg – "The Emergence of Hal" from

Henry IV, Part 1

by William Shakespeare

Mistaya Watson – "The Cat's Meow" from

Barbie The Princess and the Pauper

by Megan Cavillari, Amy Powers and Ron Hudnut

Gregorgy Blair – "All That's Known" from

Spring Awakening

by Duncan Sheik and Steven Sater

McKenzie Clay – "Battle Within," an original monologue

Bailey Patterson – "Don't Wanna Be Here" from

Ordinary Days

by Adam Gwon

Amber Frangos – "I'm No Longer Afraid" from

Mary: Her Story

by Amber Frangos and Maria McNeil

Billy Christopher Maupin – "Something Beautiful" from

Legacy

by Stephen Flaherty and Lynn Ahrens

Chris Harris – "The Monster Under the Bed," an original monologue

Renate Dopp – "I'd Rather Be Me" from

Mean Girls

by Jeff Richmond and Nell Benjamin

Scott Sexton – "The Bridge" by Elton John

Izz Allison – "Gorgeous" from

The Apple Tree

by Jerry Bock and Sheldon Harnick
Every year the Cabaret proves to be an exciting and dynamic event, and this year is no exception. Join Flashback Theater in celebrating the return of productions by attending the Cabaret on Saturday, April 10 at 7:00 p.m. behind Jarfly Brewing Co. Audiences are encouraged to make a donation to Flashback Theater but the event is free of charge and audience members of all ages are invited to attend. 
Flashback Theater would like to thank our season sponsors for their support: Applied Behavioral Advancements, M & W Printing, the City of Somerset, Lake Cumberland Regional Hospital Residency Program, and United Cumberland Bank.  In addition, the Kentucky Arts Council, the state arts agency, provides operating support to Flashback Theater Co. with state tax dollars and federal funding from the National Endowment for the Arts. Thank you to our sustaining Season Sponsors!
Location:
Jarfly Brewing Co.
103 W Mount Vernon St.
Somerset, KY 42501
Date and Time:
April 10, 2021 at 7:00 p.m.
Cost:
Free admission | Suggested donation of $5-$10