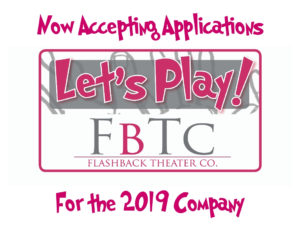 Flashback Theater is now accepting applications for the 2019 Let's Play! Company.
The Let's Play! Company is a group of theater artists dedicated to developing programming for Flashback Theater and growing together to strengthen our theater community.
This year, the Let's Play! Company is seeking four capable theatre artists to work in positions coordinating one of Let's Play!'s four distinct programs: Second Saturday Workshops, Masterclasses, Outreach, and New Play Development. Each position requires a different skill set for the different demands of each program, so applicants of all backgrounds are encouraged to apply. Company members will serve in their position from January 2019 to December 2019, making membership a year-long commitment. Since the responsibilities of company members are demanding, it is encouraged that applicants be at least 16 years of age. Junior member positions are available for applicants below the age of 16.
As a member or junior member of the Let's Play! Company, you will be part of the core performance group at our monthly workshops. All Company members will have the opportunity to perform with each other on a regular basis over the course of the year, and will be responsible for creating an encouraging learning environment for new theater artists that attend Let's Play! Company members will also get first choice to participate in special projects and events that come up throughout the year (such as the development of new work or one night only events). Company members are encouraged to participate in the weekly Lighting Round for discussion on various theatre topics.
Let's Play! is Flashback's educational arm that produces programming intended to further the skills and techniques of our local theater artists while introducing the community to basic performing concepts through theater education and hands-on activity. Our Let's Play! Company keeps Let's Play! Running smoothly all year long.
Information about Available Positions:
Second Saturday Host
Our Second Saturday events are monthly get-togethers that started out at Shopville gym, and grew to become one of our favorite regular events. Each month we don't have a production scheduled, we meet in the Black Box to play improvisation games or learn new techniques. At our Second Saturday events, we strive to promote a fun and relaxed atmosphere. Actors of all ages and experience levels are encouraged to participate. All that is needed to enjoy a workshop is a collaborative spirit and a willingness to say "yes!" Everyone is welcome in the theater!
The Second Saturdays Host will:
Coordinate the monthly Second Saturday event by gathering resources and materials

Ensure Second Saturdays maintain a welcoming atmosphere reflecting the core values of Flashback Theater

Arrange physical set up for Second Saturday events

Lead Second Saturday events throughout the year or coordinate leaders in the event of absences or special topics

Coordinate marketing efforts for Second Saturday workshops with Company Manager
Dates for 2019 Second Saturdays: January 12th, February 9th, April 13th, May 11th, July 13th, August 10th, September 14th, October 12th, November 9th, and December 14th.
Time Commitment: Approximately 12 hrs/month
Masterclass Coordinator
Masterclasses are the newest addition to the Let's Play! programming. These are one day workshops taught by a guest artist, usually in the summer. The guest artist always has experience in the industry and allows our local theater artists an opportunity to learn from a true "master."
Masterclasses are great resume-builders for those just getting started in their performing career, but also builds the skill level of our local talent making our shows even better!
The Masterclass Coordinator will:
Help plan for upcoming masterclasses, including reaching out to potential guest artists and setting dates for upcoming classes

Manage the registration process and communication with participants

Coordinate with guest artists to provide the necessary resources

Arrange physical set up for Masterclasses

Coordinate marketing efforts for Masterclasses with Company Manager
Time Commitment: Approximately 20 hrs/month through August
Outreach Coordinator
Part of our vision is to spread the joy of theater to the entire community. The Outreach portion of Let's Play! helps us to do that. Our outreach events have taken us all over the area, including the public library, schools, and gifted and talented days.  Often led by our Let's Play! Company members, these events are usually improv based storytelling workshops that we can adjust to the ages of the group. We also send Company members to community events, spreading the word about upcoming Flashback Theater productions and workshops.
The Outreach Coordinator will:
Follow leads and schedule outreach opportunities for Let's Play!

Establish relationships with schools and pursue opportunities to take workshops to them

Coordinate workshops for outreach opportunities, working with the company manager to arrange for other company members to attend and acquiring any necessary resources

Coordinate marketing efforts for Outreach events with Company Manager

Work with SCC Theatre & Film Program on Teen Theatre Fest
Time Commitment: Approximately 10 hrs/month
New Play Development Coordinator
Flashback Theater loves to work on new plays. In fact, our New Play Development arm of Let's Play! led to the world premiere of Rosies: The Women Who Riveted the Nation last May. To support the new work of playwrights in our region, we host one new play workshop each summer, allowing a playwright to see their script in a rehearsal atmosphere before sending it out to production.
Sometimes that leads to a production with us, and other times it shows the playwright just what needs to be done to make the play production ready. In addition to our new play development, we host a resident playwright, giving her time and space to create plays that we want to produce and you want to see!
The New Play Development Coordinator will:
Coordinate our annual, weeklong New Play Workshop, including making copies, communicating with actors and setting up the space

Assist Resident Playwright in research and play development, coordinating additional workshop time as necessary for plays in development

Establish relationships with potential playwrights through networking opportunities

Coordinate marketing efforts for New Play Development workshops with Company Manager
The 2019 New Play Workshop will take place from July 22- July 26th.
Time Commitment: Approximately 10 hrs/month
Junior Member
Attend at least 8 workshops and outreach events throughout the year

Interact with Flashback staff, other Let's Play! Company Members, and guest artists at Let's Play! and Flashback Theater events
Application Requirements:

Submit Online Application Form (Link to Application)

Send Resume to alexandra@flashbacktheater.co

Send One Page Cover Letter detailing your interest in the Company, including which position you're most interested in and why, to alexandra@flashbacktheater.co
Compensation:
Company members will receive complimentary and discounted tickets and training throughout the year. Occasional stipends for special events.

The application deadline is January 1st, 2019.
Click This Link To Apply Now through the Digital Application
For questions, please email Let's Play! Company Manager Alexandra George at alexandra@flashbacktheater.co, or call (888) 394-FbTC ext. 2.