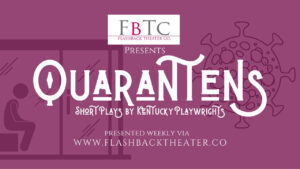 Flashback Theater Co. proudly presents the QuaranTens series, 10-minute plays by local playwrights produced in a safe environment and posted online for your free viewing pleasure. Flashback Theater Co. has always been known for bringing unique theatrical experiences to Somerset. Although COVID-19 has disrupted the theater company's planned 2019-20 season, the company has found an innovative alternative plan to bring local theatre into your life while staying healthy at home. Because the QuaranTens videos are online, they can be viewed anywhere anytime for free at this link.
What are QuaranTens
The short plays are being produced in reader's theater style under special arrangement with each playwright. Professional ensemble member Keifer Adkins envisioned the concept for QuaranTens. "The QuaranTens are unique because they're solely being done during the pandemic," shares Adkins, "The QuaranTens fit our mission perfectly. Our mission is to explore our present relationship to the world through the lens of our past interactions as a community and through the passionate pursuit of theater that speaks to the soul. Each of the eight plays we have presented are written by Kentucky playwrights, seven of which are Pulaski County residents. Audiences familiar with our work will recognize the performers and directors from previous productions. And, hopefully, our community will be able to relate, if not cackle, at a few of these stories."
To film the productions safely, Flashback has carefully followed social distancing regulations. "Each play was required to have a cast of 1-3 people; and, so, with a director, the maximum amount of people in the theater during our rehearsals would be four people," says Adkins, "By limiting people, time spent in the theater, and encouraging use of sanitizer and hand-washing, I feel that Flashback has dedicated itself to providing a creative space whilst keeping our artists safe."
How do I view the latest QuaranTens?
To view the latest QuaranTens, viewers can visit Flashback's website at www.flashbacktheater.co/quarantens/. The QuaranTens now available for viewing on Flashback's website include Chris Harris' Maveth, the story of a depressed man's encounter with a one-of-a-kind woman who changes his outlook forever, S.T. Mara's The Doohickey Experiment, which explores the creative process behind writing a new play, and A.S. Todd's The Teachings of Sir Gareth, in which a heroic knight attempts to teach two bawdy peasants the intricacies of courtly manners. Flashback intends to release five new Quarantens in the coming weeks.
How do I support QuaranTens?
If you enjoy the work Flashback is producing, you may show the organization financial support through donation. Flashback Theater Co. is a nonprofit corporation, meaning they thrive on support from their community members. Adkins assures, "you can make a donation by going to flashbacktheater.co/donate. Or simply buy tickets to any future production!"
Flashback Theater Co. is committed to supporting and uplifting our community during this difficult period. The QuaranTens encourage our community to continue supporting local artists while staying healthy and safe at home.
Flashback Theater is grateful to season sponsors, Applied Behavioral Advancements, LLC and M&W Printing for their ongoing support. Additionally, the Kentucky Arts Council, the state arts agency, provides operating support to Flashback Theater Co. with state tax dollars and federal funding from the National Endowment for the Arts. Additional support comes from Kentucky Tourism.