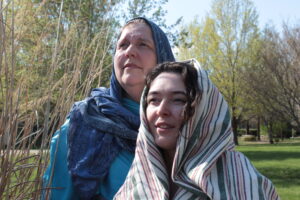 Flashback Theater Co. presents a "Friends of Mary" Meet the Artists reception dedicated to the unforgettable musical Mary: Her Story, written by FbTC Resident Playwright, Amber Frangos and local musician, Maria McNeil Phelps. The reception will be held at the Lake Cumberland Farmer's Market on May 26, 2022 at 7:00 p.m.
Flashback is ecstatic to produce its third world premiere production and invites patrons to meet the people behind Mary: Her Story. Audiences will get to speak with creator, Amber Frangos, Sommer Schoch, the Producing Artistic Director of Flashback, and Flashback Professional Ensemble Members. Friends of Mary ticket holders will mingle, take photos, and enjoy fellowship with the artists.
Flashback believes that producing local work is vital to their mission of exploring the world, our past, and theater. This includes giving space for local playwrights to hear their work read by actors, attend rigorous workshops, and see a fully stage production. Mary: Her Story will be the first musical world premiere in Flashback's history. 
Over the development process, Flashback has provided support by offering space, actors, and fundraising opportunities. A Kentucky Foundation for Women grant supplied the workshop materials and helped fund the orchestration development.  The cost of the development is an investment made in the future of the production. When the show moves on to other productions, Flashback Theater will be listed as the world premiere location, building awareness of its commitment to new work for the theater industry at large. Previous world premiere productions include: Rosies: The Women who Riveted the Nation and Boats Against the Current, both written by local playwrights, Amber Frangos and William H. McCann Jr., respectively.
Amber Frangos and Maria McNeil Phelps have collaborated on Mary: Her Story through three years of workshops, both in-person and on-line, and are ready to show the world this beautiful, human story of faith, love, and sacrifice. 
Frangos's work as a playwright is extensive: her play Rosies: The Women Who Riveted The Nation received a grant from The Kentucky Foundation For Women for development that lead to its world premiere at Flashback Theater in May 2018. Her screenplay (short), Take It For A Spin, launched at the Autumn Shorts Film Festival at Somerset Community College in the fall of 2018.
McNeil Phelps is a graduate from the Chicago Academy for the Arts and holds a professional music degree from Berklee College of Music. She has performed her original music in Chicago, Boston and New York City. Maria is the CEO and Artistic Director of McNeil Voice Studio located in the Flashback Theater Co. education center in downtown Somerset, Kentucky.  Learn more at www.mcneilvoicestudio.com!
Audiences will enjoy this camaraderie with the artists, allowing them to ask questions and learn about the process that goes into the creation of production at this scale. One could imagine meeting Rogers and Hammerstein as they first created Oklahoma!, or Andrew Lloyd Webber when he first wrote The Phantom of the Opera, but Friends of Mary have an opportunity to meet Amber Frangos and Maria McNeil Phelps before the musical becomes something larger than itself. 
Tickets are still available for the remaining performances of Mary: Her Story, get them now for performances and the Friends of Mary "Meet the Artists" event.
FbTC is thankful for all sponsors and would like to recognize 2021-22 Season Spotlight  
Sponsors: ABA, LLC, The City of Somerset, M&W Printing, and Kentucky Tourism, Arts, and Heritage Cabinet and Footlight Sponsors: Kinetic by Windstream, David Daring Rentals and SPEDA, for their continued support of FbTC's production of theater that speaks to the soul. 
This production is brought to you in partnership with Title Sponsor: HealthMarkets and Artist Sponsors: Lake Cumberland Recovery, Kentucky Utilities, American Woodmark, and Southern Petroleum. 
Performance Details
All performances will be held at Stoner Little Theatre on the campus of Somerset Community College, located at 808 Monticello St., Somerset, KY, 42501.
Thursday, May 12 at 7:30 p.m.
Friday, May 13 at 7:30 p.m.
Saturday, May 14 at 7:30 p.m. *
Sunday, May 15 at 2:30 p.m.
Thursday, May 19 at 7:30 p.m.
Friday, May 20 at 7:30 p.m.
Saturday, May 21 at 7:30 p.m.
Sunday, May 22 at 2:30 p.m.
*The role of Young Mary will be performed by Understudy, Alexia Van Noy. 
Ticket Prices
Adults – $18 Advance, $20 Door
Students – $12 Advance, $15 Door
Friends of Mary – $50**
All seats assigned at time of purchase. 
**This ticket level supports the production with an additional donation and includes an invitation to the Friends of Mary reception to meet the creator and select cast members. Reception will be Thursday, May 26 at the Lake Cumberland Farmer's Market at 7:00 p.m.
Tickets may be purchased online (www.flashbacktheater.co/events), in person at the Flashback Theater box office, located at 400 East Mt. Vernon St, Somerset, KY 42501, Tuesday through Friday 11:00 a.m. – 5:00 pm., or be reserved in advance by calling the box office at (888) 394-FbTC. Advance ticket sales end online 2 hours prior to showtime. We accept all major credit cards. Exchanges may be made at no cost up to 24 hours prior to the ticketed performance by calling the box office. 
On performance dates, box office hours will open one hour prior to curtain at Stoner Little Theatre. For sold out performances, a waiting list will be available on a first come, first served basis. Reserved seats not claimed 10 minutes prior to curtain will be released to the waiting list.